Now that we've just settled into the fall routine either with school or considering moving back to warmer clients, you might be looking to winterize your beach home. There are certain tasks to complete before winter hits regardless of whether or not you have oceanfront or beachfront home, but this checklist is specifically for beach properties. You want your home to be just a safe and secure next year as when you left it now so here's a good checklist of things to remember.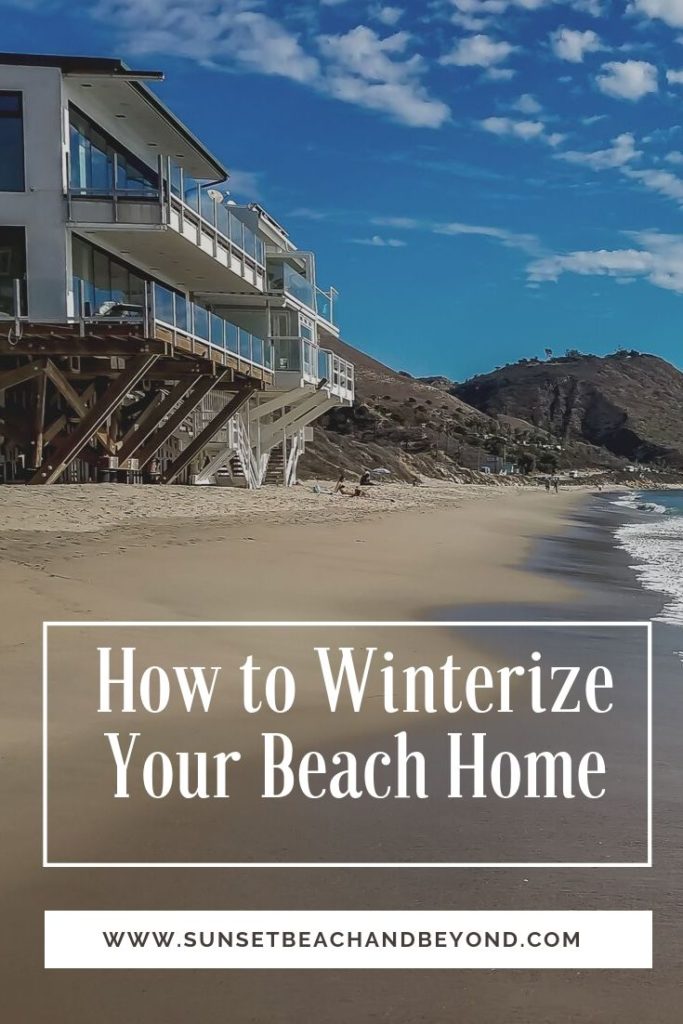 #1. Systems check.
Test your heating system if you haven't turned on the furnace or heatpump yet. Before the cool winter months arrive set your thermostat to 80° or until you hear the furnace kick on and feel the warm air blowing. If there's no issue, set it back to your desired temperature.
Winterize your air conditioning. Check the condensing unit of your air conditioning system and clear any debris, rinse it off, and protected for the winter.
Protect plumbing and pipes by insulating exposed pipes in crawl spaces, attics, and outside walls. Shut off all the water and cover faucets and drain the water from each.
Winterize your sprinkler system by turning off the sprinklers and blow compressed air through the holes to purge them from water and prevent any damage from freezing over the winter.
#2. Exterior.
Clean and clear all gutters and downspouts. Examine all the doors and windows for gaps and re-caulk or weatherstrip any problems around doors or windows.
Clean and inspect your fireplace flue or chimney and make sure that the damper completely closes to prevent any cold air from coming down. Consider having the chimney cleaned and/or your furnace serviced.
Cover and clean your grill, outdoor furniture, and cover or bring in any plants that need protection against freezing temperatures over the winter. Drain any and all fountains and water features as well.
#3. Interior protection.
If you're going to be gone for long periods of time making sure your home looks like it is occupied. Install outdoor motion sensor lights and interior timer lights to give the appearance of occupancy when you are not there. Forward your mail and newspaper delivery so it doesn't pile up on the deck.
Consider having a neighbor or trusted friend check on your home from time to time. Give them access to the home so they can make a quick check inside that nothing has flooded, broken, or been broken into.
Set the thermostat to a temperature that will keep the pipes warm enough to prevent freezing but cool enough that it won't cost you an arm and a leg over the winter. Consider having security measures in place and check windows and door locks to alarm your home. Inspect smoke detector and CO detector batteries and make sure they're all working correctly.
We want your home to be safe and secure all winter long so that you can enjoy it without skipping a beat next year. Looking for a winter home in Sunset Beach North Carolina? Give us a call or browse through our website for more information on local events, buying and selling, and to get a good sense of the Sunset Beach area real estate market.
More Resources: