North Myrtle Beach Homes for Sale, North Myrtle Beach is a small coastal town in Horry County South Carolina just south of the North Carolina border between Little River and Briarcliffe Acres. Is home to about 14,000 year-round residents and part of the Myrtle Beach statistical area population, which totals nearly 330,000 residents. North Myrtle Beach was founded in 1968 from four existing municipalities north of Myrtle Beach. It is one of the primary tourist destinations along the coast's Grand Strand.
 There are four major neighborhoods within North Myrtle Beach; Cherry Grove, Crescent Beach, Ocean Drive Beach and Windy Hill Beach.
 Cherry Grove Beach, or simply Cherry Grove, lies along SC9 and Sc65. It was built up in the early 1950s and has been remodeled numerous times, especially after hurricane Floyd. In 1968, Cherry Grove Beach merged with Windy Hill beach and Ocean Dr., Beach to form the city of North Myrtle Beach, however, the neighborhood is still considered Cherry Grove.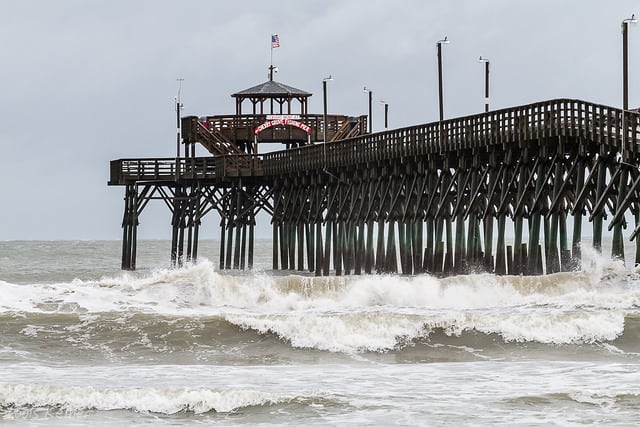 Crescent Beach is located on the south side of North Myrtle Beach between Ocean Dr., Beach and Atlantic Beach.
 Ocean Drive Beach is located pretty much in the center of town along Main Street which connects with Highway 65.
Windy Hill Beach is located at the southern end of North Myrtle Beach along Highway 17 between the Barefoot golf course and the ocean.
North Myrtle Beach offers a variety of dining, shopping and entertainment options. Whether you are visiting, enjoying a second home or vacation property or making North Myrtle Beach or primary residency, find something to do nearly every day of the year in this fantastic location.
 If golf is your thing, you can enjoy some of the world's most challenging golf courses. These courses are surrounding North Myrtle Beach and were designed by championship golfers such as Arnold Palmer, Jack Nicklaus and Greg Norman.
SCHOOLS
 There are several smaller schools in North Myrtle Beach such as to preschools, the North Myrtle Beach primary school, child development schools and a couple elementary schools in the area. They are all part of the Horry county school district. Within the district there are about 25 elementary schools, 11 middle schools, for charter schools and 15 high school and high school option schools as well as special programs such as the Horry County adult education and educational center.
REAL ESTATE
At any given time there is between 200 and 400 properties for sale in North Myrtle Beach. This also includes surrounding communities and towns that may not be within the city's boundaries. Homes are priced from about $65,000 for oceanfront condominiums to over $5 million for high end, luxury properties with ocean access or views. There certainly something for everyone in North Myrtle Beach. With a wide variety of home prices, styles and designs, you are certainly capable of finding your dream home, primary residence or vacation property here.
For more information on homes and real estate in North Myrtle Beach South Carolina please contact us at anytime or visit our website for all properties for sale in the area.
Image by Louis Keiner Flickr
Latest North Myrtle Beach Properties for sale:
North Myrtle Beach Sold Homes