Myrtle Beach Homes for Sale, Myrtle Beach South Carolina is one of the most well-known golf towns in the US. This coastal town is home to about 27,000 residents with the entire Myrtle Beach metropolitan area covering nearly 470,000 residents. It's located in Horry County on the center of a large and continuous stretch of beach known as the Grand Strand in northeastern South Carolina. It sits between Briarcliffe Acres and Surfside Beach just south of Pine Island and Red Hill.
ATTRACTIONS 
One unique fact about Myrtle Beach is that it is protected from erosion by vegetation filled sand dunes. Because of its location and attractions, over 14 million tourists annually visit the area and the Grand Strand is home to a wide range of tourist attractions, events and activities.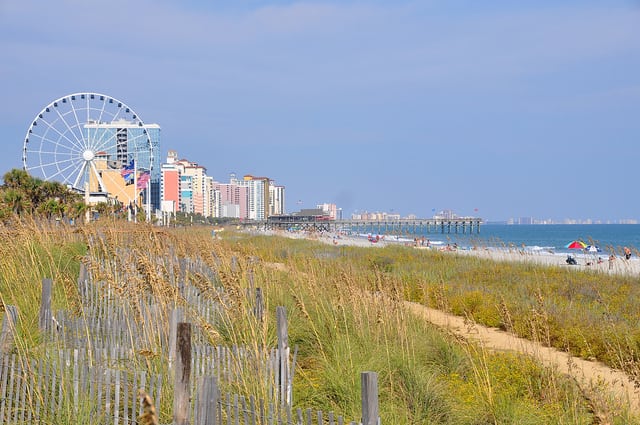 Myrtle Beach hosts a variety of special events and music concerts and provides residents and tourists with activities such as amusement parks, several golf courses, and aquarium, retail shopping outlets and over 1900  restaurants. Myrtle Beach offers nearly 500 hotels, beachfront accommodations and nearly 90,000 units in all. Myrtle Beach is also home to Myrtle Waves, one of the largest water parks on the eastern seaboard.
Myrtle Beach is also home to the Carolina Opry, a unique venue offering musical, comedy, dance and entertainment shows. The myrtle beach boardwalk, which opened in 2010, has been awarded as the nation's #3 Boardwalk by National Geographic and one of the best boardwalks by Travel and Leisure magazine.
 Myrtle Beach was incorporated in 1938 as a town originally as the railroad brought tourists into this area. It was officially incorporated as a city in 1957.
SCHOOLS
Myrtle Beach is part of the Horry County school District and overall receives an 8 out of 10  city rating. The top-rated schools in Myrtle Beach include the Forestbrook elementary school, the Ocean Bay elementary school, the Forestbrook middle school in the Carolina Forest elementary school, all of which received either a 9 or 10 rating by parents, teachers and students alike.
REAL ESTATE
 There are roughly 350 to 450 homes, condominiums and properties for sale throughout Myrtle Beach during any given time. Home prices run the gamut from just $40,000 for a condominium or manufactured home to over $3.5 million for oceanfront property, estates and luxury homes on the water.
 The median sales price for a home in Myrtle Beach is around $180,000. The median house sizes around 1100 ft.².
For more information on the Myrtle Beach real estate market, properties or information on living in Myrtle Beach full-time or  to purchase a property is a second or vacation home please contact us at any time.
Image by James Willamor Flickr
New On Market Myrtle Beach Homes for Sale
Myrtle Beach Sold Homes