Oak Island is a small coastal town in North Carolina, which sits between Holden Beach and Caswell Beach just south of St. James. Its home to about 7000 residents and was originally founded in 1999 by the consolidation other towns of Long Beach and Yaupon Beach.  Even though there are between 60500 – 7000 year-round residents, the summer population explodes to nearly 50,000 in peak tourist seasons. Oak Island is part of the Myrtle Beach Metropolitan area.
Oak Island offers 65 public beach accesses a long several miles of sandy beach dotted with fishing docks and piers, boat ramps and intracoastal waterway access. The Davis Canal is one of the largest access points to Atlantic Ocean but the entire city is perfect for kayaking, fishing, water activities and boating.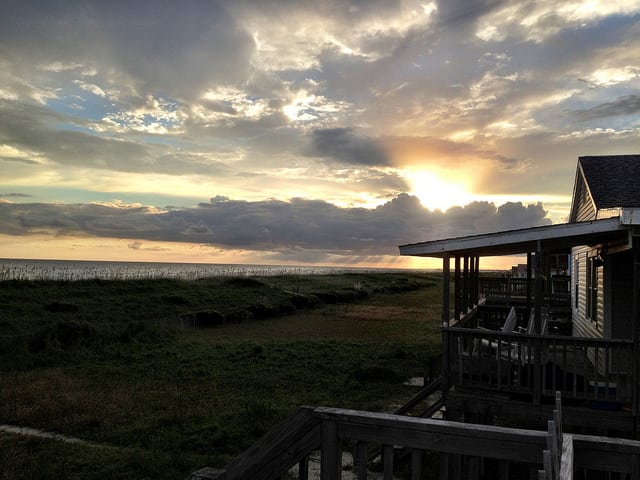 Oak Island offers a municipal golf course and eight parks complete with athletic and sports fields. Residents enjoy a  skate park, dog park, oceanfront observation deck and beautiful little parks along the ocean. In addition to our nature attractions there are also numerous shops and restaurants throughout the town. For fresh seafood, visit Haag & Sons or Oak Island Pier.  Looking for a delicious glass of vino? Check out the Grape & Ale at 8521 E. Oak Island Dr.
 The Oak Island lighthouse has been a landmark in Oak Island since 1958 standing nearly 170 feet tall on the Cape Fear River. Bald Head Island lighthouse has been an iconic figure since 1795 and has been rebuilt but still remains the original lighthouse since 1816.
SCHOOLS
 Oak Island is home to four schools providing K-12 classes. There are two elementary schools: the Virginia Williamson elementary and the Southport elementary, one middle school, the South Brunswick middle school and the South Brunswick high school.
Near Oak Island is the Charter Day school in the Cape Fear Center for Inquiry, both of which receive a 9 out of 10  rating from great schools.org.
REAL ESTATE
 The average price for a home in Oak Island is between $150,000 and $350,000. There are several foreclosure and bank owned homes that offer a great deal but generally homes are between $100,000 and $900,000. There are the occasional estates and waterfront homes over the $1 million mark but it is rare.
Something to be aware of is our risk for hurricanes. The emergency information is located on the town website but being prepared ahead of the storm can make it much easier to deal with one. There are residents of live to their entire life and have never had issues with hurricanes but it is something to consider.
 The Oak Island Police Department controls access to several of the bridges at the East of town, West of Town and Middletown and Oak Island as well as Caswell Beach decide jointly when the bridges should be closed and reopened. The bridge is closed to all traffic when winds of over 40 miles an hour's sustained and heavy rain are present in the area.
 For information on homes, real estate or life in Oak Island please contact us at any time. We love this little coastal town and would love to help you find either a vacation or second home here perhaps your primary residence.
Image by Doug Anderson Flickr
 View the Newest Oak Island Homes for Sale:
Oak Island Sold Homes