For many, moving to a beach town and living on the beach is a dream come true. Images of cruising the sands, listening to the sounds of the waves, seeing gorgeous sunrises or sunsets, smelling the salty air, engaging in water activities… It seems like a slice of paradise. But, living by the ocean is not without its challenges. From boisterous crowds to high maintenance costs, there are many issues you may never have considered. If you are considering moving to the Gulf, you need to look at both sides of the coin and find out both benefits and downsides of coastal living so you know what is best for you.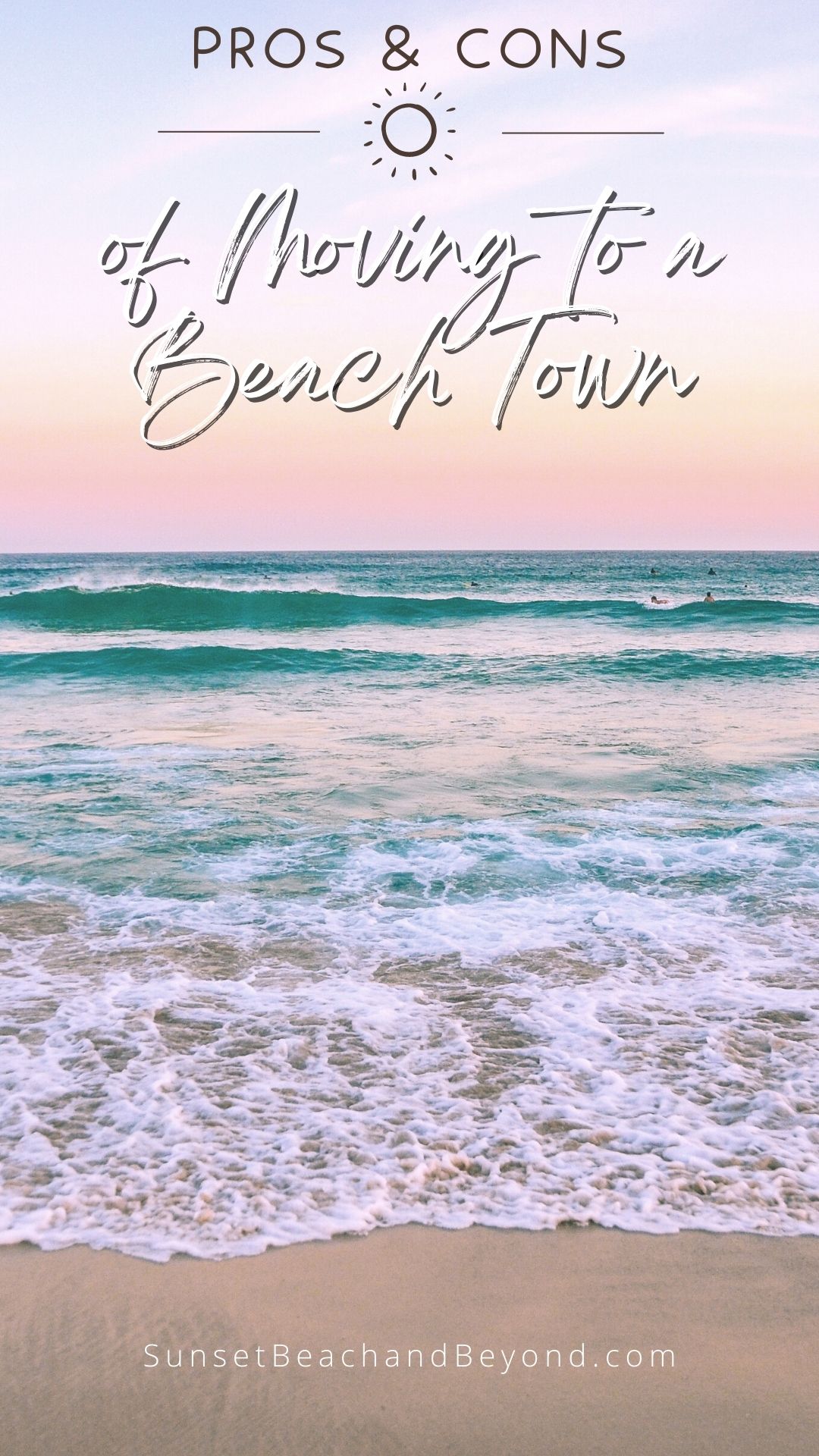 Here are the most important pros and cons of moving to the beach, so you can make your best-informed decision.
Pros and Cons of Moving to a Beach Town:
Benefits of Moving to the Beach
Many dreams of moving to a beachfront property, and for good reason too.
Mild Weather
There is abundant sunshine and mild temperatures typical to coastal areas which are among the main reasons behind people moving to the beach. The ocean moderates the climate near the coast, so summers are warm but not too hot and the winters are cool, but not too cold. The result is mild weather that can be extremely beneficial to one's health, physical fitness, emotional well-being, and financial situation. Listed below are more benefits:
Sunlight increases the levels of Vitamin D in your body, boosting your immune system, your energy, and your mood.
Colds, flu, sinus infections, joint pains, and other illnesses and health issues are less common when exposed to warm weather.
Utility bills tend to be lower in coastal areas as the A/C is rarely needed. There are no freezing temperatures in the winter and cooling the house in the summer requires nothing more than opening the windows to let the cool ocean breeze inside.
A mild climate results in less hassle and fewer troubles, as you don't need to shovel away snow, winterize your home and your car, or worry about dangerous driving conditions.
There is no need for winter gear needed, and you don't need to buy specialized winter equipment and expensive winter wear.
The nice weather allows outdoor activities all year round, as snowfall is rare and the temperatures are mild, so you can be outdoors all year long.
These reasons can be enough to make you want to move to the beach and never look back.
Lots to Do
The beach is always a lot of fun, and if you choose to move to the coast, you won't need to travel to get to all that fun. Enjoying the sand and water whenever you have free time while taking walks on the shore after dinner, and having your morning coffee with your toes in the sand is appealing. Every weekend will feel like a vacation and there will always be something enjoyable to do.
Relax and sunbathe on the beach, play frisbee or volleyball, etc…
Watch a magnificent sunrise or sunset, listen to the crashing of the waves, and observe the birds and sea creatures.
Go swimming, snorkeling, scuba diving, water surfing, sailing, kayaking, or fishing.
Sip a cocktail by the ocean or dine at a fancy seafood restaurant.
Entertainment options are endless. Whether it is water sports that draw your attention, embarking on an exciting adventure hiking, enjoying nature and what it has to offer, or simply relaxing, the beach always has something to offer you. The scenery is breathtaking and beautiful-from the dunes to the translucent waves, every view is postcard worthy.
Additional: 10 Experts Tips to Moving Across the Country
Better Health
The greatest advantage of moving to the beach is that it can help aid you in being healthier. The ample sunlight mentioned above, warm weather, and numerous outdoor activities in coastal areas have many health benefits. There are, however, many other reasons why relocating near a beach can be so great for health.
Tiny seawater drops in the air help prevent cancer and reduce cholesterol, while negative ions in sea air improve oxygen absorption in the body to balance serotonin levels.
 Ample access to fresh seafood.
Fewer allergens, including lower pollen counts, less dust, etc…
The slow, relaxed pace of life.
Natural stress relievers, including feeling the sun on your skin, the gentle ocean breeze on your face, and the sand between your toes, hearing the mesmerizing song of the waves, and enjoying the gorgeous views can ease your mind, allowing for a total recharge.
Life on the seashore is great for one's physical condition, mental health, and spiritual wellness.
Good for the Kids
Moving to a small beach town can be the best thing for your family. Living in a safe, healthy, and fun environment can leave you relaxed, healthy, and enjoying your lifestyle, bringing you and your family infinitely closer. Children can have the opportunity to grow up in a healthy environment with fresh air, wholesome food, and plenty of sunshine. Outdoor activities and physical exercise allow for a ton of family fun, with your children being able to explore and learn, socialize with other kids, and engage in all kinds of entertaining adventures.
Downsides to Living on the Beach
As hard as it is to believe after all the wonderful things we have listed above, the challenges of coastal living may cause you to regret making the move to the beach.
Crowds
A small beach town may paint the picture of being peaceful, and serene even, especially during the winter, early spring, and late fall. But there is always a hive of activity in the warm seasons. Visitors flock by the hundreds, crowding the beaches, restaurants, and shops, leaving trash in their wake, while worsening the traffic. If you live on or near the beach, you can expect long lines, heavy traffic, loud noises, and other inconveniences during the tourist season.
Local businesses and beaches will be packed, and parking will be both more expensive and more difficult to find. Tourists are always good for local businesses, but the place you and your family call home is nothing more than a vacation spot, and they treat it as such.
When you live on the seashore, friends and family will want to visit as often as possible, and you may not be so happy about them using your home as a hotel.
High Home Prices, Maintenance Costs, and Insurance Premiums
Oceanfront properties are valuable, and you can bet that buying a home on the coast will cost you a lot. Even renting a place in a beach town can be quite expensive. Living near the ocean means higher upkeep costs, mainly due to the corrosive nature of saltwater and the havoc that it can wreak on wood, metal, and glass. Salt accelerates rust and causes abrasions, as proper home maintenance in coastal areas requires a lot of effort and much money for repairing and replacing. Home insurance is quite expensive because of beach erosion, increased wear-and-tear, and potential flood damage.
High Risk of Damage
Proximity to the ocean can be a great bonus, but it is also a liability. Seaside homes are at a big risk of flooding and structural damage during tidal surges and violent storms. Hurricanes and tropical storms are common in coastal areas and the big crashing waves can pose a threat to waterfront properties.
These are not the only disadvantage of living in a beach town.
Far too much humidity.
Uv-radiation from the sun is harmful to both skin and eyes.
Sand flies are insufferable.
The sand gets everywhere!
For more local information on moving to the coast, check out our website. Sunset Beach and Beyond know the area more than anyone. Whether you are buying in Sunset Beach or Selling your Sunset Beach home, Contact the team who lives here, works here, and plays here year-round!
More Great Advice on Moving
Ways To Make Moving While Expecting Easier On Moms-To-Be
4 Ways to Make Moving Less Stressful
4 Things to NOT Pack When Moving
Should We Decorate for Christmas if We Plan on Moving?