That's a tough question. We have several clients right now that are asking themselves about this very thing. Some of our clients want to decorate but just don't know about it. Here's the lowdown on decorating for the holidays if you're in the process of a move.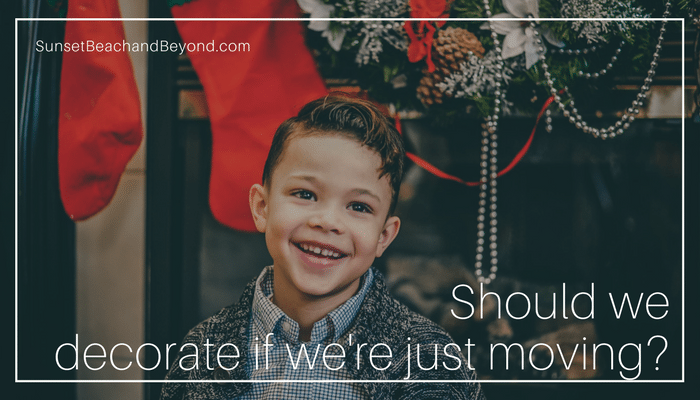 Closing before the 10th of December.
We have one client that is moving into their new home on the 10th of December. They have chosen to just wait to decorate until they are in their new home. 
Because the home is already sold and they already have a closing date, they are planning on packing up their most desirable Christmas items and unpacking those first in the new home. This is a great time to go through all of your Christmas or holiday decorations and get rid of things that you are just not going to use. Carefully pack away the items you do want to use for the current holiday season and make sure those are one of the first boxes you open when you move in.
Closing between the 10th and the 25th.
We have other clients that already have a closing date but it's between 10 December and the 25th, or even to the end of the year. This is really up to you whether or not you choose to decorate. A lot of people just choose to have a simple Christmas tree or a few holiday decorations such as stockings hanging on the mantle. Nothing too elaborate or too complicated so you don't have a lot to pack up and put away but there's still some sense of the Christmas or holiday spirit.
Read More: Many mistakes most home sellers don't even know they are making
Currently on the market without a closing date.
Other clients are still on the market. They may not have had an accepted offer yet so for them, many have chosen to decorate for the holidays. Again, some have chosen to just keep it simple. A nice wreath on the front door, a simple Christmas tree, and stockings on the mantle. Most don't go overboard because they just don't know when their home is going to close but at this point, at the end of November, chances are the closing date will be after Christmas. However, the home is still on the market so you don't want your house to look like Santa threw up in there. You wanted to be tasteful, simple, yet cozy and festive.
Keep all of your outside decorations to a minimum and again, this is a great time to go through old holiday decorations and donate them or even sell them since many people are decorating this time of year as well.
Read More: Inexpensive ways to have the look of a high-end home
"Don't stress so much about the possibility of offending someone. The majority of people know that most people celebrate Christmas so having some tasteful decorations at this time of the year is pretty normal. However, if you are concerned about it, a simple reef or garland can make a festive statement without offending anybody. Try not to go overboard on religious decorations this time of year if you have a lot of people coming through the house and touring the home for sale. Keep it simple, tasteful and most importantly, create a sense of coziness and warmth within the house." – Thank you to our Affiliate in Orlando real estate for her take on this.
Smells are a big deal this time of year; the smell of baking cookies, simmering cider on the stove and cinnamon potpourri can create warm and cozy memories.
If you have a different scenario and you'd like to ask a question about the best way to stage or decorate your house when it's on the market or in the middle of a sale, contact our office. We love to answer any questions you might have or even prepare your home for sale this winter and next year.