The outdoor living entertainment option is becoming more and more popular. Home buyers are looking for a great back yard that's ideal for entertaining, large space, and several amenities. These could include an outdoor fireplace, BBQ or kitchen area, firepit and built in patio. If you're selling your North Carolina home and need some tips on creating this type of space or perhaps you just moved in and need to update the backyard, here are some great tips for creating an indoor/outdoor space on a budget.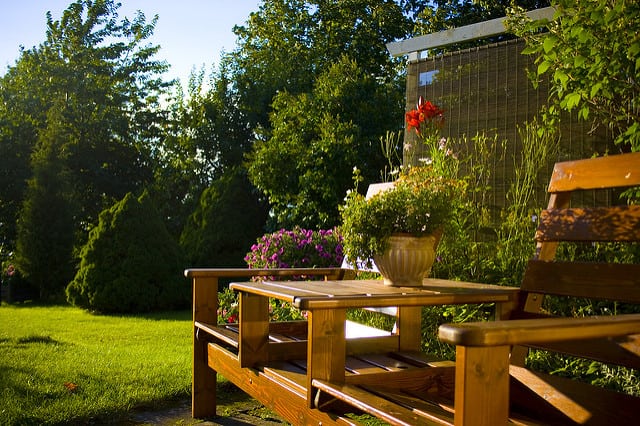 Start with the patio.
To save money, start with pavers instead of pouring a concrete patio. Patios can be created with just about any medium but inexpensive pavers are usually the best. Plus they are very low maintenance and you don't have to stain or seal it at all.
Shelter.
Shelter and shading do a few things; they create shade and they also make the area feel complete.  You can create a mobile space with an umbrella or a large overhang or awning that's built into the side of the house. There are several options, all in different price ranges. 
Create the entrance.
How will you get to your outdoor living space? There usually should be a way to get to the area from inside the house and from outside the property. Do you want sliding doors? An accordion-style patio door or a pocket door? Consider how you want to view the outdoor living area from the inside. Do you want to see the patio? Is there a view you can be enjoying? Doors certainly vary in price so find out how you will get to your oasis and also if you are looking at a gate or pathway from the front of the house to the backyard. 
Comfortable seating.
You want to be comfortable in your backyard space and cushy chairs, Adirondack chairs or couches can really bring the area together and create a lush and comfortable area. A 4-group seating area is typically the best as it will accommodate a small party as people mingle and move around.
The Extras.
This is where your unique style makes the area complete. Accessorize just as you would the inside of your house with screens for detail, potted plants, outdoor rugs, outdoor lighting and cushions. Bring the inside outside and offer a comfortable and inviting place to relax and entertain.
Buyers are enthralled with this lately so if you organize your backyard to be a great entertaining spot, the buyers will flock to it and you'll have an offer in no time. Give us a call for more details on making your home a buyers dream! 
MORE TIPS TO IMPROVE YOUR HOME
Image by Chun Kit To Flickr