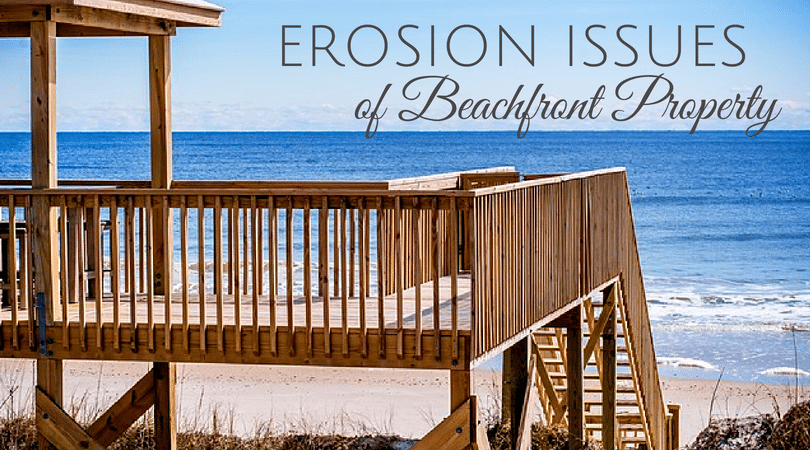 It's a legitimate question to ask about erosion when buying a beachfront or oceanfront home. And if you haven't thought about it yet, you definitely should. Currents, storms, and other coastal erosion issues can occur, especially between the Intracoastal Waterway and the ocean along the East Coast of the US. Let us give you some of her unbiased tips and suggestions when buying coastal property.
Choose a Realtor® that is familiar with coastal property.
I know I just said I would be unbiased, but regardless of who you go with, choose an agent that is well-versed in coastal property. Agents that are not familiar with buying beachfront homes cannot offer you the insight, local conditions, and additional insurance you may need for buying a coastal property. Because this is our specialty, we can offer a lot of tips and suggestions as well as advice on to which house may be more susceptible to erosion than another.
Read More: Questions to Ask When Buying Beachfront Property
Insurance.
Under federal law, flood insurance is mandatory for all federal and federally related financial assistance acquisitions or the construction of buildings in high-risk flood areas such as FHA, and USDA. Not every lender will require flood insurance or additional hazard insurance, but it is highly recommended to be covered on all areas. Talk to your insurance company about any special requirements you may need. It may not be a huge extra expense, but it can give you peace of mind. Remember though, federal flood insurance only covers the buildings and contents damage, usually including damage from waves caused by flooding. Long-term erosion is not directly covered unless it occurs during a storm event. (This is usually the case) It's important to ask your insurance company exactly what they cover and ask for any additional insurance such as wind damage, hurricane damage, or long-term erosion. Read More on Flood Insurance
Speak to an engineer.
Specialized engineers can look into the erosion in a particular area. Finding a specialist to give you a report and inspection can put your mind at ease or give you suggestions on where to buy and where not to buy. A structural engineering report and a geological survey could you give you all the information you need about a particular property or location. While we have certain engineers that we can refer, this truly is an unbiased report that needs to be conducted thoroughly by someone of your choice.
More: Consider protecting your beach home from storm damage.
North Carolina's ocean beaches can experience long-term erosion caused by a variety of factors including rising sea levels. Our ocean is risen about 6 inches during the last 100 years causing North Carolina's barrier islands to migrate land work. This might seem like a big deal, but again, it's 6 inches in a century. However, the erosion rate in some shoreline areas can be more than 20 feet while others are relatively stable. Shorelines near inlets usually have greater fluctuations, so this will definitely be a factor in where you choose to buy a beachfront home.
More: 5 Important things to know about buying near water
Just because there's a house there, doesn't mean it's a good location.
People will build their homes anywhere. You've heard that saying, build your house on the sand and it will wash away? Well, that's not necessarily true for every coastal location in North Carolina, just because there's a house there, doesn't mean it can't happen. It's important to talk about building construction features that will help reduce or prevent storm damage. The location, construction, and protection all play into whether or not the home will be protected during a storm or erosion.
So what can you do to prevent it?
There are several ways to prevent erosion, the most common is a seawall. Seawalls, bulkheads, jetties, and breakwaters are a good way to avoid erosion however, they are usually not allowed along the beaches of North Carolina. Sandbags or replenishing the routing shoreline is allowed and maybe a better option. You can also move your home away from the eroding shoreline. This might seem like a huge expense but it's actually one of the most cost-effective means of getting a structure out of harm's way.
Read More: What to know when building a beach home
We don't mean to scare you but it's important to be informed when buying coastal property. We want you to love your home for many years to come and that just means doing your homework and choosing the right home. Ready to get started? Call us or start browsing all coastal properties on our website. We'd love to assist you in finding the right home for your needs.