Owning a beach home is many people's dream, and owning a beach front home that was custom built just for you is even better. There is nothing like living right on the beach with breathtaking views, calming sounds of crashing waves, and the relaxed vibes.
When building your dream house on your own piece of paradise there are things you want to take into consideration such as: location, materials, and lifestyle. With the right careful planning, you can build a home that lasts and is loved for many generations.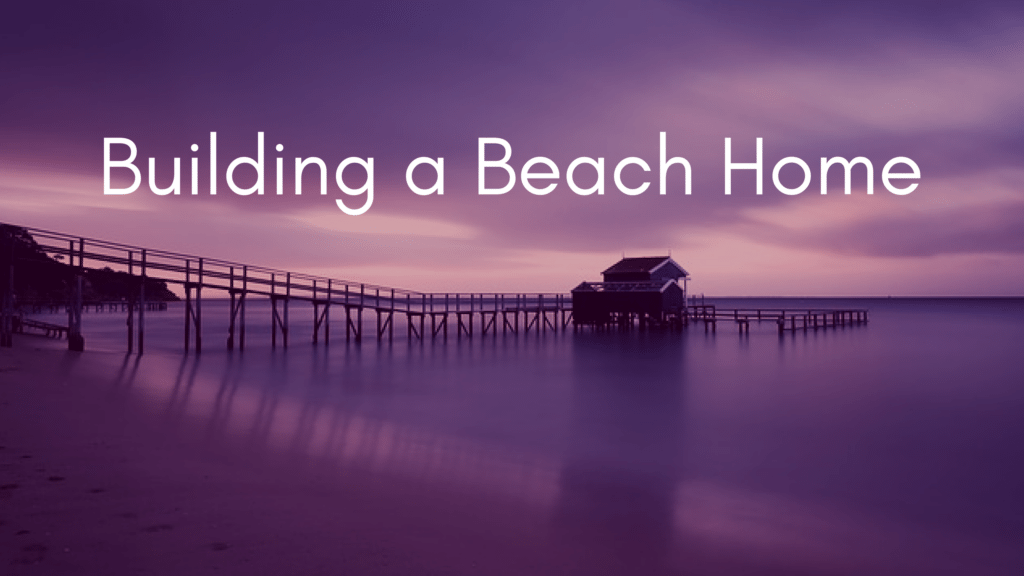 Location
We have all heard the age-old real estate saying " Location! Location! Location!' There is a reason why this is used so much. Location is so so important when it comes to your home. It is especially important in building a beach home. You need to be aware of proximity to the water, erosion trends, and local variances to keep your home safe and on spec.
Weather Protection
Coastal areas are more vulnerable to severe weather. It is smart to look into the weather patterns and required insurance for a given area, you may need to invest in building a home on stilts and/or purchasing storm windows and maybe even shutters.
Think of Outdoor Rooms
The reason you want to live at the beach is to enjoy the outdoors. Don't forget to design outdoor spaces that will call you outside. Build a beautiful outdoor space with amenities that will have you enjoying your beach even more because you have personalized comforts tailored to your lifestyle.
Related: Why Cookie Cutter Homes are No Longer Popular
Allow those Breezes to Come In
One of the best parts of living at the beach is the great breezes. Consider a home design that allows fresh air to flow through your home.˘Open concept homes allow sunlight and fresh breezes in all through the home. Letting the breeze in also allows for good air circulation avoiding the inside air getting stagnant.
Keeping Things Dry
There is, of course, a lot of moisture at the beach. There are many different scenarios to consider when keeping things dry such as: proper yard drainage to avoid unnecessary flooding, keeping outdoor storage spaces dry, ensuring dry indoor storage, etc.
Study the Neighborhood
Beach homes in different areas tend to have their own style features. For example: the most classic of beach home styles are considered to be a Maine, New England, or Nantucket style beach home with cedar shingles that stand up to the wind and bright white trim. It is a good idea to observe the beach homes around your land to determine what common features and materials other builders have used. If you are purchasing a piece of land in an established neighborhood you will also want to check into any HOA regulations and requirements.
Hire a Lawyer as Well as a Contractor
Building on the water means building on a highly protected area. It is wise to have a real estate lawyer look over your plans to ensure you are within the confines and compliant with the laws for your particular piece of land.  It is better to know ahead of your build if something will not pass regulations than after it is already built.
We can help you find a great Sunset Beach area property to build your dream home.