Without buying waterfront property, buying a home is already a complex process, but when you add waterfront to the deal, you can feel like you're beginning to drown.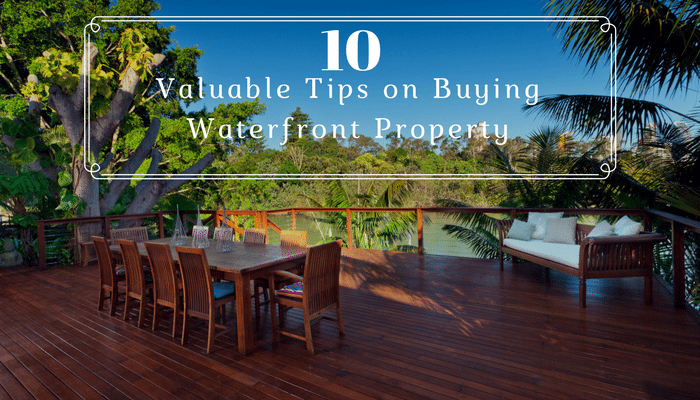 1) Make sure your agent is a waterfront specialist. A waterfront real estate pro knows the ins and outs of waterfront property. Don't be the guy who thinks he's getting a great deal only to find out your "great deal" is for "a reason", such as oyster beds and people can't get their boats in and out.
2) Concentrate on the overall property rather than just the structure. Remember, you can change the house but you can't change the location. Don't be the people who fall in love with the home only to hate the murky swimming water, or the obstructed view, or the lack of privacy,  or the fact that getting down to the water is very difficult.
3) Make sure the property fits your lifestyle. Focus on what water side activities you really love and choose a property accordingly. If you want to walk the beach every morning, don't choose a property that's a five-minute drive to the ocean or up on a cliff.
4) Start looking into loans now. Waterfront property is expensive and lenders will only consider very qualified buyers. For this reason, the loan process can be quite a bit longer than the typical home loan so you'll want to begin the process early.
5) See that the structure is weatherproof. Waterfront homes get a lot of abuse from the elements. Therefore, make sure the home is protected. Does it have storm shutters? Does it have stainless steel locks to avoid corrosion from salt air?
6) Insurance can be an expensive headache. Look into insurance early so you know what to expect.
7) Find out what you can do with the property. Are you going to want to add a dock? Are you allowed to? Also, see what kind of activities are permitted on the water. If you love to jet ski, you probably don't want to live where there are tons of restrictions on jet skis.
8) Talk to neighbors.  This is a good idea for buying any home but ask them how they enjoy the community and if they've had any issues with the property.
9) Check into utilities. If you're not used to waterfront property, you may be surprised to discover that electricity, clean water, an adequate septic system, cable, and the internet are not always the norm.
10) Find out what your responsibilities as a homeowner will be. Is there a homeowner's association? Find out what they require and get a copy of the CC&Rs.
For more tips on waterfront property in Sunset Beach and along the Intracoastal Waterway, call us today!