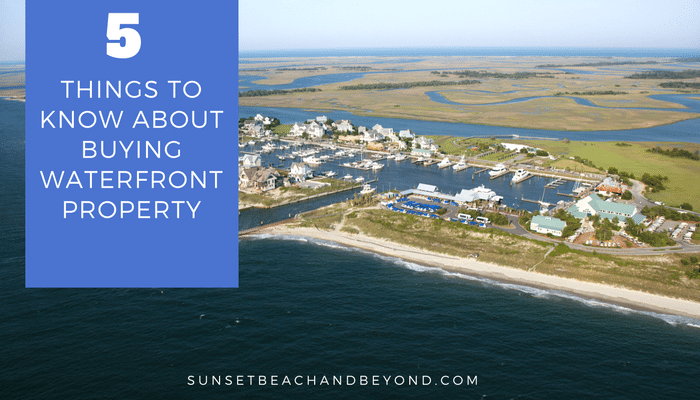 As the ocean keeps rising, people keep wondering about buying close to the water. While the Sunset Beach area has plenty of oceanfront and waterfront homes, there are better choices than others. Here are 5 important things to know before you buy a home near the water.
#1. Due Diligence. 
Many home buyers don't really know this term but it's used a lot in real estate. It means to "take reasonable steps to satisfy a legal requirement, especially in buying or selling something. A comprehensive appraisal of a product or property to establish its assets and liabilities and to evaluate it's potential." Basically, you'll want to know the integrity of the house and its location. Consider checking with the state's geological survey to make an informed decision on the property before you buy. 
More: Is There a Difference Between Ocean and Beach Front?
#2. Check Flood and Hurricane Zones.
Research the hurricane and flood chances for an area. You should also consider insurance and take preventative measures to protect your home. (Read more on protecting your oceanfront home) You can ask your real estate professional about the flood rules, zones and know the evacuation routes before buying.
More:  Questions to Ask When Buying Waterfront Property
#3. Remember maintenance.
It takes a little more work to maintain a waterfront, oceanfront or beachfront home. Salt water can wreak havoc on cars, houses, and property. You may have to continuously maintain stainless steel, wood, and windows. You should factor these costs into your oceanfront property. 
More: Is There a Difference Between Ocean and Beach Front?
#4.  Keep your home secure.
Oceanfront property is subject to burglaries more than many homes typically due to the fact that the beach is public property. Many homes lack proper fencing and security. Consider investing in additional locks and security systems. 
More: The 5 Best Things to Living on the Intracoastal Waterway
#5. Your home may not be as private as you want.
Many beaches in Brunswick County are public and if you plan on buying on the beach, be prepared for anyone to go wandering by your home. While this is no big deal to some, to others it may be an invasion of privacy. Keep this in mind.
Buying a waterfront, oceanfront or beachfront home is a great option IF you know the risks and issues that come along with it. We love our home and if you would like more information on homes on the Intracoastal waterway or on the beach, contact us today.
[Related Post: How to keep your vacant home secure during the holidays]