Things You May Love About a Home Now But Hate Later – When we are shopping for a home we can get all dreamy and excited about finding all of the things we want on our list in a home, and maybe some extra style features we didn't expect to fall in love with. All of a sudden we are falling hard for a home and putting in an offer anxiously hoping the seller accepts our offer because "we have to have that house."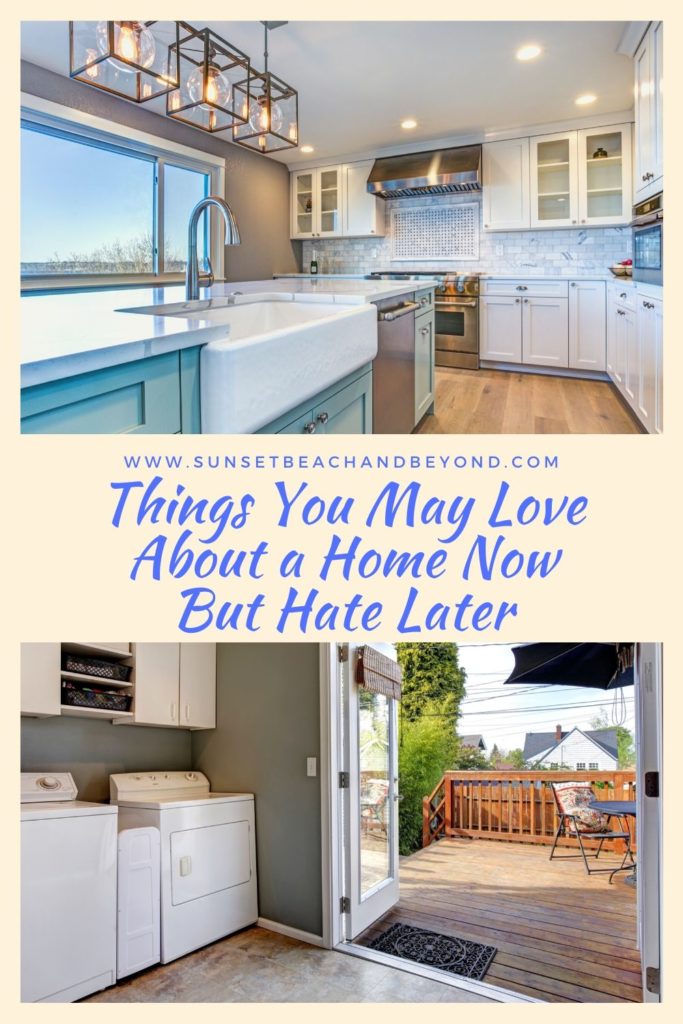 Sometimes, when we develop a love for something the romance can fade and home features we thought we would love aren't really our favorites. We may even wish we had the time and/or money to renovate and make them different.  
Before you begin home shopping, check out this list of things many homeowners think they want in a home and later wish they had something a bit different.  
Upon reading the bullet point, this one may get some people fired up. Maybe you are asking, "what would possibly be wrong with an open floor plan, it is great for entertaining, or being able to see everything while cooking in the kitchen."  
Keep in mind the bullet says WIDE open floor plan. This would be a home where all of the main rooms are one wide open space. The reason some homeowners are looking to put in walls in their open floor plans is the lack of privacy and the noise. If you have older kids that want to invite friends over they may not enjoy the rest of the family being in the same room. If you want an open floor plan we suggest looking for a home that has other multi-purpose/multi-use rooms on other floors that allow family members to do other things or have more privacy.  
On a design note: Large open spaces require larger furniture and artwork, which is more expensive. 
Upstairs laundry rooms seem so amazing because they sound convenient and easy. No more lugging large piles of clothes up and downstairs from the bedrooms to the washer and dryer.  
Upstairs laundry rooms generate a lot of noise throughout the rest of the house. Many upstairs laundry rooms end up getting moved down to lower floors because people do not enjoy hearing little other than the washing machine through the house when it is running.  
Pedestal sinks, bowl sinks, and vessel sink all add stylish appeal to a bathroom, but when it comes to using them in your day to day routines, they are no longer so glamorous.  
The height of bowl sinks can make them awkward or hard to use especially if you are washing your face or your little one needs to brush their teeth. They look glamorous in home magazines and makeover shows, but the ease of use in everyday life is more difficult. They can also take more effort to clean, especially those really fancy clear glass ones.  
Pedestal sinks are pretty and add to certain design aesthetics, but they are tiny. There is no counter space for products and no storage underneath for products or cleaning supplies.  
These types of sinks are not practical for primary bathrooms, they are better suited to a small guest bath. Keep this in mind when home shopping.  
Hardwood Floors in the Wrong Rooms

 
Hardwood floors are beautiful and last a long time, as long as they are in the right room and finished with the right sealant. Kitchens and bathrooms really should not have hardwood floors in them. They will take a painstaking amount of work to keep them beautiful. 
Hardwood flooring in any room of the house really should have a proper coat of protective finish applied to it. So if you are in love with a home that has hardwood floors make sure you know they have been properly cared for and are not installed in rooms where it just doesn't make sense. A better solution for these spaces are tiles made to look like hardwood. This way there is no worry about moisture and extra wear.  
Are you looking for the perfect home in Sunset Beach or the surrounding Brunswick County area? I would love to help! 
More Valuable Tips for Home Buyers:
Buying New Construction? Don't Make These Home Buyer Mistakes
Unexpected Issues You May Find When Home Buying
How to Sweeten the Deal in a Multiple Offer Situation