Homebuyers can get frustrated when there are multiple offers on a highly desirable property. Even a solid, full price offer may not be enough to sweeten the deal. There's smaller inventory than there was a few years ago and the demand is strong so buyers need to know how to create an amazing offer that will stand out above the crowd. Here are some simple ways to sweeten the deal on a multiple offer situation.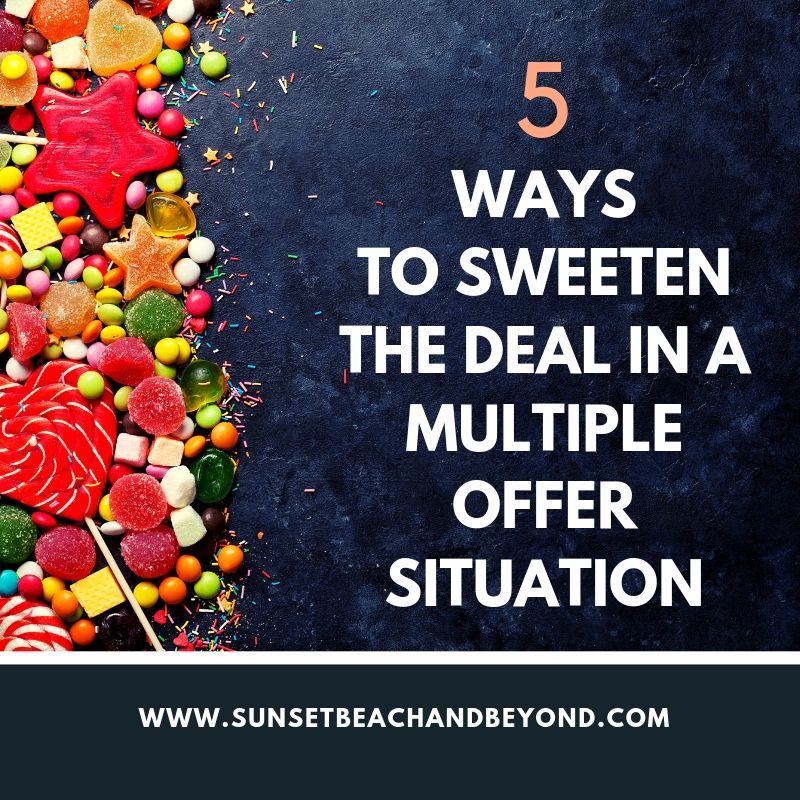 #1. It's not always about the price.
Sellers are looking for more than just the price. You might've even offered over the asking price, but if other terms are not as favorable, your offer may get rejected.
#2. Minimize contingencies.
Of course, you'll want the home inspected but if you know you're going to buy the home regardless of what you find, you can waive the home inspection or offer shorter deadlines to accommodate the seller.
#3. Get preapproved.
Most buyers are preapproved for a home loan before even making an offer but if you haven't done this, you will probably get rejected right away. Make sure you are preapproved for the exact amount you are offering and sent a letter of preapproval along with the offer to prove you've done your financial homework.
#4. Simplify the offer.
You don't need a lot of flowery words to sweeten the deal. Sometimes, unneeded language can lengthen the offer and feels a little threatening to the seller. Spell out the terms of the deal without complicating things and make it as easy and as flexible as possible.
#5. Have your agent stay on the ball.
Sometimes just communicating with the listing agent is enough to stand out above the crowd. Think of it this way, if the listing agent has some random offer come faxing in or email without any communication, it probably will not get as much attention as the agent that's talking to the listing agent, communicating on what the seller really wants, and trying to be flexible with dates and solidifying the offer before actually submitting it.
We want all of our buyers to get exactly what they're looking for and that means submitting an offer that stands out and is really attractive to the seller. Our experience with buyers and listing agents can put your offer ahead of the crowd.