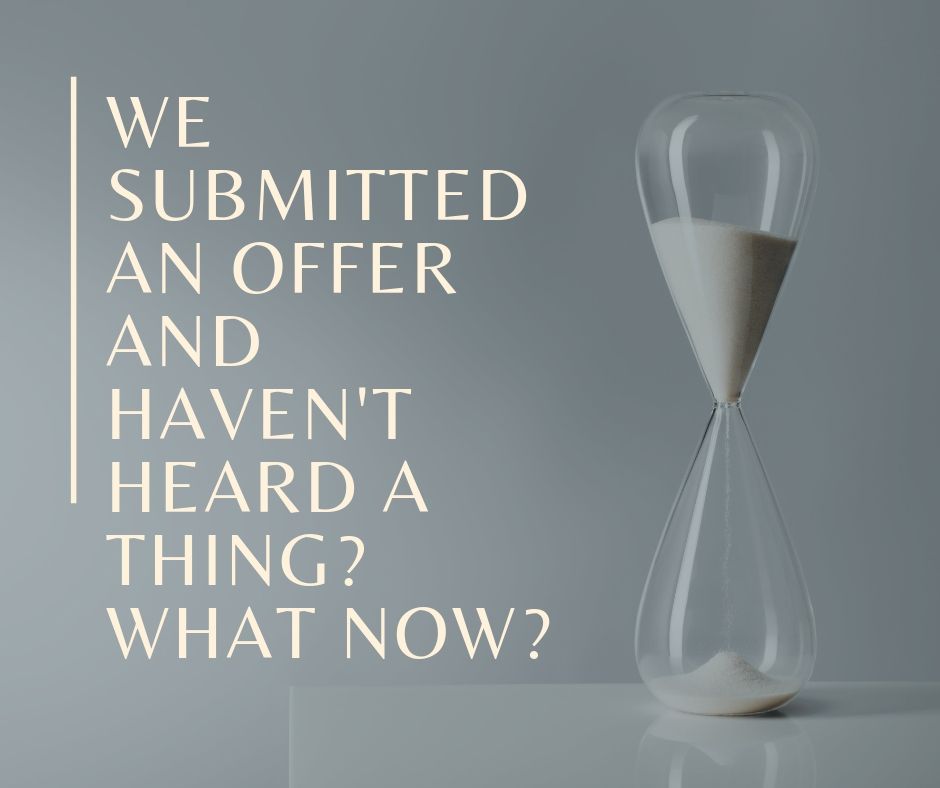 Every real estate transaction brings about a different scenario because every party involved in a real estate transaction differs. Even if you have different lenders, appraisers, and escrow officers, your buyer and seller and even the opposite agent will be different so this combination provides a different scenario for absolutely every real estate transaction. This is where I cannot stress enough the importance of an experienced agent or broker. Yes, we have to have continuing education and take tests on what we know, but nothing beats the experience of going through dozens if not hundreds of real estate transactions a year. That being said, this is a common issue we've had where we have submitted an offer and hear nothing back from the listing agent. What's going on here?
When we submitted an offer to a listing agent we will usually contact that agent first to ask some questions about the listing and the sellers. This will help us draw up a solid and tight real estate offer catering to the seller. We want to know how motivated the seller is if there have been any other offers, along the properties been on the market, and why the owner is selling. All of this will lend information to create a better offer. However, this doesn't necessarily mean we have an accepted offer just because the listing agent and the buying agent are talking. Once we have an idea of the offer to submit we will write up a solid offer for our buyer's terms and price. This offer is typically submitted either through facts, in person, or through email. From there, the listing agent must submit the offer to the seller. There is a three day waiting period for the seller to review the offer.
Technically, after three days, if there is no mutual acceptance or counteroffer, the deal is terminated. However, this doesn't necessarily mean that the buyer needs to resubmitted offer. Listing agents know that they have three days to respond to an offer and if they don't that offer can become null and void. This means that the buyer could go present an offer to another seller and if that original seller comes back with an accepted offer, the buyer is not obligated to buy because the time limitation ran out.
Related Post: How to Beat Cash Offers
If the listing agent responds to the buyers within those three days, that time can get extended. For instance, if the listing agent cannot meet with the seller within those three days they may speak to the buyer's agent and ask for a few more days. This communication will give the buyer some peace of mind that they are still reviewing the offer.
But what if there's no communication and you don't hear back from the listing agent or the seller within those three days?
We try to contact the listing agent to find out what's going on. This is perfectly acceptable. We can contact the listing agent to make sure they receive the offer and if the seller is willing to entertain the offer or if they're going to reject it. This communication will give everyone a good heads-up as to what's going on and the timeframe. However, the listing agent isn't required to respond. Those three days could come and go and in the meantime, the seller could receive a better offer, except it, and the first buyer has no idea.
Related: 5 Way to Get Your Offer Accepted
Again, we feel communication is really the key to getting everybody what they want and for a win-win for all. If we don't hear from the listing agent within three days we contact them. We can certainly chat over the phone or in person about the details of the offer if things need to change, and what the seller is expecting. We can then alter our offer or ask for a counteroffer. If the seller has no other offers on the table and the buyer has no interest in another property, this verbal communication could go back and forth for some time, however, nothing is enforceable until it is in writing and signed by both parties.
For more answers to your real estate questions give us a call at any time.