Can you do it? Sure! Should you? Well…. That's always up for debate. Of course, as a real estate agent, you'll think I'm going to say 'no' but there are more reasons than my paycheck for which I'm suggesting.
Here's what you need to know about selling a house yourself.
Legal Issues
You need to know some legal issues. Selling a house is a big purchase and sale and if you are not fully aware of all the details that go into a transaction you may find yourself in a world of hurt. It's not as simple as selling a car. You can't simply hand over the keys and deed and get a wad of cash in exchange. Most buyers will have to finance and you'll need to have that approved ahead of time. You don't want to be sitting at the closing table only to discover the buyer hasn't gotten their financing in order and really can't afford the home.
Then there's the legal deed, recording with the county and any outstanding liens. Title insurance and verifying you truly have the right to sell the property. (You'd be surprised at what many homeowners don't even know about their own house.)
There is just so much legal jargon involved in a contract that if you are not fully clear on the wording, you could end up losing out on money or personal property. Everything needs to be done correctly and legally for the proper exchange to take place. Hearsay, word of mouth or shaking hands on a deal is not always the most honest ways to do business, especially when you're talking hundreds of thousands of dollars.
See: 5 Questions to ask your Realtor®
Accurate Price
Don't get me started on that "Zestimate" of Zillow. Too many homeowners think their homes are worth far more than they really are. Now, I'm not here to underprice the home but Zillow's estimates have been known to be up 35% of the actual market value! That's a lot! These sites just cannot evaluate the home like a skilled and experienced agent. You never know… you might actually UNDER-price the home and sell too fast, losing out on money you could have received had you priced it correctly from the beginning.
Overpricing the home means it will sit on the market for longer than you anticipated. Homeowners usually start to drop their price after the first few weeks to get more attention. Buyers start to notice how long the home has been on the market and may tend to shy away at this point. They don't know the home was overpriced but may feel that the property has something wrong with it. The longer a home is on the market, the more of a black mark it tends to get from potential buyers.
Pricing it correctly from the beginning is key. As a real estate professional, I know the market, the neighborhoods, the trends and what buyers are willing to spend. Knowing all these key components can make it much easier to price and sell a property.
Showing it yourself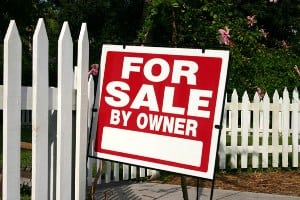 There's a reason we suggest that sellers leave the property when it's time to show. Buyers feel awkward when a seller hovers over them as they tour the property. Sellers tend to overcompensate by explaining too much about the property when the buyer really just wants to browse in peace. This can certainly shy buyers away right off the bat. It's best to have their agent or your listing agent tour the property with the buyer, keeping the property safe and yet giving buyers the freedom to discuss and tour the house at their leisure.
Read More: The true cost of selling your home
Exposure
If you are still considering selling your home yourself there is the component of marketing. You'll need to spend your money on marketing, advertising, and promotion of the property. This can be done with a sign in the yard, ad in the newspaper or social media ads. But your agent does all this for you in addition to all the marketing they do in the MLS. Only licensed agents are allowed to list properties in the MLS, which is seen on thousands of websites across the country. Your agent may even have a buyer ready to go before listing! FSBO's (For Sale By Owner) just simply cannot achieve this level of exposure.
See: 3 Ways to sell your house with less stress
So, yes, you can sell your home.. or should I say, try to sell it. Statistics have shown that those that try to sell on their own, eventually come back to a Realtor® and end up selling for more than they would have on their own. It's really worth it. Give me a call and let's find out how much we can sell your Sunset Beach area home for.