Have you ever heard of this theory? Buying the worst home in the best neighborhood? Well, if you are looking for a fixer-upper or a little bit of a challenge when it comes to a property, this is the best strategy in order to get the best return on your investment.
So how do you go about finding the worst home in the best neighborhood?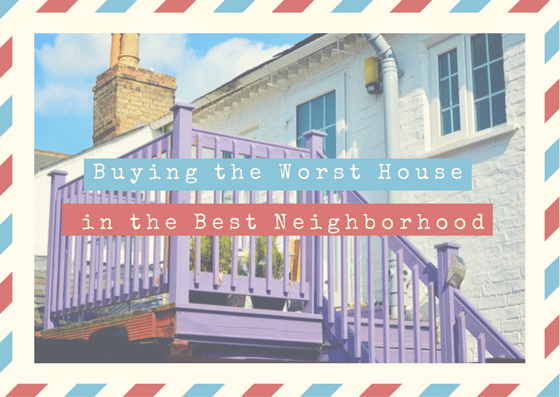 It helps to have a little bit of construction knowledge and understand what you could be doing by buying this home. When real estate agents use the term "fixer-upper" it can mean anything from a few cosmetic repairs to an all-out teardown and do over. Fixer-uppers can be a money pit but it also depends on if you have the eye for potential and the ability to improve the home yourself. Saving money on construction costs and architects can save you thousands of dollars simply by doing it yourself.
First up, find the neighborhood or area in which you want to live. If you're looking to live by the ocean, there are a lot of communities that have properties against the ocean or on the Intracoastal waterways. If you're looking to live in the city, have a real estate agent answer any questions you might have about the particulars of the neighborhood. If you're looking to be in a specific school zone, close to modern commerce like shops and restaurants, or you're looking to be close to your work. Find the area in which you want to live and then hone in on the resources and requirements you need for that area. You might be surprised as to what you can afford in a neighborhood in which you originally thought you couldn't.
Tour those neighborhoods looking for potential properties and this doesn't necessarily mean homes that are already on the market. You can actually offer to buy a house that's not on the market. Perhaps you see a home that's run down, has a lot of junk in the front yard or could need some serious TLC. Perhaps the owner is looking for a way to get out of their property and they just don't know where to start. You can always knock on the door and ask the owners they've ever considered selling. You might be surprised as to the answers you get. Of course, the worst thing they could say is no, which will just move you onto the next property.
Don't be intimidated by rough properties. Take a look at the other properties in the neighborhood. Are they well manicured? Are the landscapes and yards neat and tidy? Do the majority of homes look like they are well taken care of and maintained? If this is the case for most homes in the neighborhood come a chances are once you fix up a distressed property in the neighborhood you nationally will gain more equity right away. Don't be fearful of these properties because you never know exactly what they need. Some might just need cosmetic updating and repairs, which could cost far less than a complete overhaul of the foundation, siding, and roofing.
Consider it a numbers game. Do you have to sell property in order to buy another one? Will you be carrying two mortgages at any point in time? Can you live in the home while you are fixing it up? All of these factors play into the role of what property to buy and when to buy it. You might consider a low down payment option even though you have the money for a conventional loan. You can put more money toward the updating and repair of the property rather than into the down payment. You can always refinance into a conventional loan once the equity increases after the repairs and updates to the home.
If you're planning on buying in Brunswick County or the north end of South Carolina and anywhere from Wilmington to Sunset Beach, Contact Our Office. We Know the Individual Neighborhoods and can help you find the right home or fixer-upper for your needs in the right neighborhood.