The end of the year is just a couple of weeks away and you might be wondering if you should closure loan before the of the year late? Are there any benefits to closing before December 31? If you're escrow or title company has given you the option of closing before the end of the year there may be reasons for it. Here are some benefits to closing before the end of the year.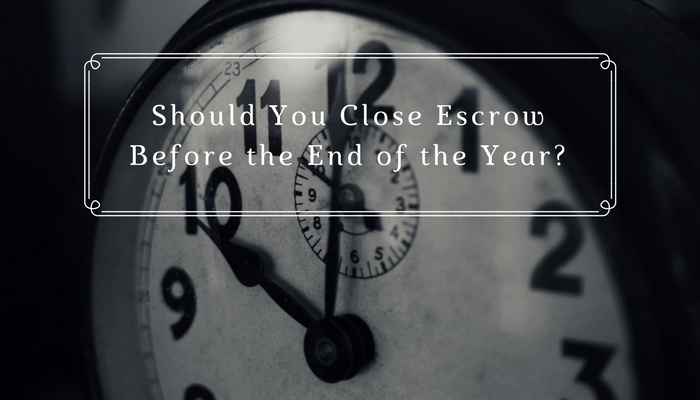 Tax benefits.
This is probably the biggest one in the reason most will advise you to close quickly. If you're buying a new home this will entitle you to tax deductions on your 2017 taxes. You could claim points or origination fees on closing cost deductions on a new loan. This only applies for the year you close the loan. If you wait until next year before closing, you will have to wait an entire year before you can deduct those fees. Mortgage deductions can also allow you to deduct any mortgage interest, which works well for new homeowners since early mortgage payments tend to be mostly interest anyway. Property taxes can also be deductible too.
Interest rates. Closing escrow on a new home purchase before the end of the year is a great way to lock in low rates for the life of your home loan.
Nonfinancial benefits.
If you close before the end of the year you may be able to get into your new home before the holidays really hit. Even though we are very close to Christmas, and you may not be completely unpacked, you won't have to worry about that after Christmas. Everything will be done and you will be in your new home.
Winter is still coming. It's only going to get colder here in North Carolina so getting into your homes soon means that you'll avoid moving in the dead of winter.
Increased motivation. Everybody wants to get things done and tied up before the end of the year so this is good motivation for everyone else to be on their game and get things done.
Of course, we don't want to add any more stress to the already stressful holiday season but, if you can close by the end of the year it might be a great benefit not only financially but emotionally. 
Browse our website for more tips and tricks to buying and remember to call us for all Sunset Beach homes for sale.
Read More: Buying advice from real people
How to schedule the closing in your favor