Whether you are improving a house to sell or just want to do a little home maintenance to enjoy your home, even more, working on the outside is just as important as working on the inside. With that being said, here are 10 simple outdoor projects that really boost your home's value.
#1. Outdoor fire pit
Having an outdoor fire pit is almost a no-brainer. We can enjoy the view, listen to the waves, and stay toasty warm. This little project can realize a 78% return on your investment and can cost anywhere from $100-$5000 depending on how elaborate you want to go.
#2. Create an instant lawn with sod.
You can always reseed your lawn but if you want a quick fix, consider laying sod. It cost about $700 for a 1000 square-foot yard but you can boost your homes resell value by $1000 making it a healthy 143% return on your investment.
#3. Pave a gravel driveway.
Gravel driveways may be acceptable but if you really want to boost the look and appeal consider paving the driveway with pavers or just a new layer of gravel. Gravel driveways can be anywhere from $4000 on up but paving could be a lot more expensive, however, there will be a 75% return on your investment.
Read More: 3 tasks for preventative home maintenance
#4. Have a landscape makeover.
Luscious and neat landscaping can definitely increase your home's value and it could give you a healthy 105% return on your investment. Consider natural flagstone, walkways, stone planters and mulch.
Related: Can too much mulch be a bad thing?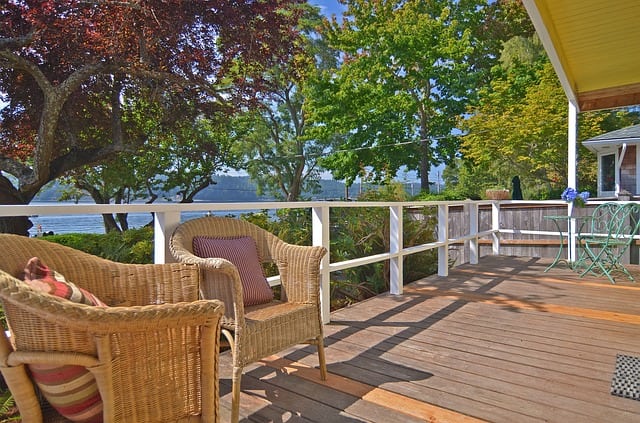 #5. Add a wood deck or add-on.
Consider installing an attached or even a detached wooden deck or simply add on to what you may already have. It's the perfect spot for relaxing and entertaining and can give you a return of almost 83%.
#6. Install a backyard patio.
This can be a pricey investment but it can give you a 60% return. Paver stone patios and outside living areas can range from about $4000 on up and concrete patios cost less than brick or flagstone patios.
More: Found your forever home? Here's how to love it
#7. Outdoor kitchen.
Depending on how elaborate you want to go, this costly renovation can set you back between $10,000 and $25,000, however, it can give you a 100% to 200% rate of return. It can be built in, be plumbed, have electricity, a refrigerator and of course a great grill.
#8. Outdoor lighting.
Not only is it a safety thing but it can create magical ambiance in your yard. You get a 50% return on your investment for outdoor lighting either along the driveway, solar lighting, under about lighting, or porch lighting.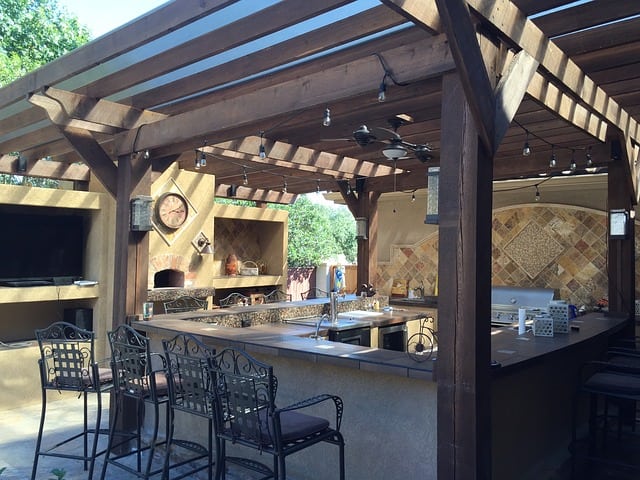 #9. Install a sprinkler system.
One of the best investments for a great looking lawn (especially after you've laid the sod) is a buried sprinkler system. This can run between $3000 and $4000 but it can give you anywhere from a 40% to 50% rate of return and you could save a lot of water having things run on a timer.
Read More: 5 Simple spring home maintenance tasks
#10. Plant trees.
Not only is this good for the environment but it really boosts your rate of return on your house as well. It can give you shade, provide food if you plant fruit trees, and really give the home a mature and established look.
Start with some of these great outdoor projects to really improve the look of your house before people even walk-in. And, if you're looking to sell your home please give us a call today. We'd love to price it for you and give our tips and tricks on how you can boost your home's value.