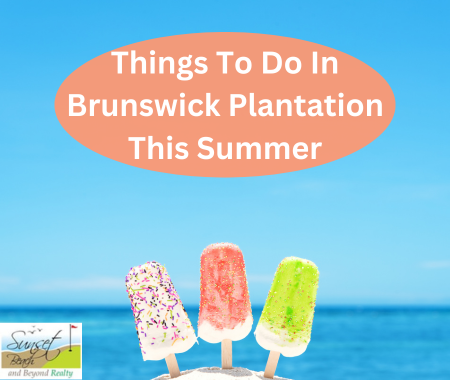 If you're planning a summer getaway to the picturesque Brunswick Plantation, get ready for a memorable experience filled with a plethora of activities and attractions. Nestled near the coast, this charming destination offers a blend of natural beauty, outdoor adventures, historical sites, and a vibrant local culture. Whether you're an avid golfer seeking top-notch courses, a beach lover craving sun-kissed shores, or a nature enthusiast eager to explore the surrounding parks, Brunswick Plantation has something for everyone. Immerse yourself in the tranquility of the area's nature, indulge in mouthwatering seafood, delve into the region's rich history, and take advantage of nearby towns and cities for even more exploration. With a myriad of possibilities awaiting, your summer in Brunswick Plantation promises to be an unforgettable experience.
Things To Do In Brunswick Plantation This Summer
Golfing: Brunswick Plantation is renowned for its championship golf courses. Spend a day on the fairways and enjoy the beautiful surroundings.
Relax by the pool: Many resorts in Brunswick Plantation offer swimming pools where you can unwind, soak up the sun, and enjoy a refreshing swim.
Visit nearby beaches: Brunswick Plantation is located near the coast, so you can take a short drive to beautiful beaches like Sunset Beach or Ocean Isle Beach. Spend a day lounging on the sand, swimming in the ocean, or enjoying water sports.
Explore nature parks: Head to nearby nature parks like Shallotte River Swamp Park or Brunswick Nature Park. Take a hike, go birdwatching, or enjoy a picnic surrounded by nature.
Kayaking or canoeing: Rent a kayak or a canoe and explore the waterways in the area. There are several rivers, creeks, and marshes where you can enjoy a peaceful paddle.
Take a boat tour: Join a boat tour to explore the Intracoastal Waterway or the nearby Cape Fear River. These tours often offer insights into the local wildlife and ecosystem.
Visit historical sites: Brunswick Plantation is close to historical sites like the Fort Fisher State Historic Site, the Battleship North Carolina, or the Old Brunswick Town State Historic Site. Discover the region's rich history and learn about its significance.
Try local cuisine: Sample delicious seafood and other local dishes at restaurants in and around Brunswick Plantation. Freshly caught seafood is a highlight of the coastal region.
Attend events and festivals: Check the local events calendar for any festivals, live music performances, or cultural events happening in the area during your visit. These can add an extra layer of excitement to your summer getaway.
Explore nearby towns: Take a day trip to nearby towns like Wilmington or Myrtle Beach. These vibrant coastal cities offer a range of attractions, shopping, dining, and entertainment options.
In Conclusion
If you're looking for an abundance of information about the diverse real estate options in the captivating city of Sunset Beach, we invite you to contact our team. We are committed to providing you with unwavering support, essential details, valuable insights, and expert guidance to help you make well-informed choices regarding your real estate endeavors in this remarkable destination. Please don't hesitate to reach out to us at your convenience; we're eagerly waiting for the opportunity to assist you with our services.