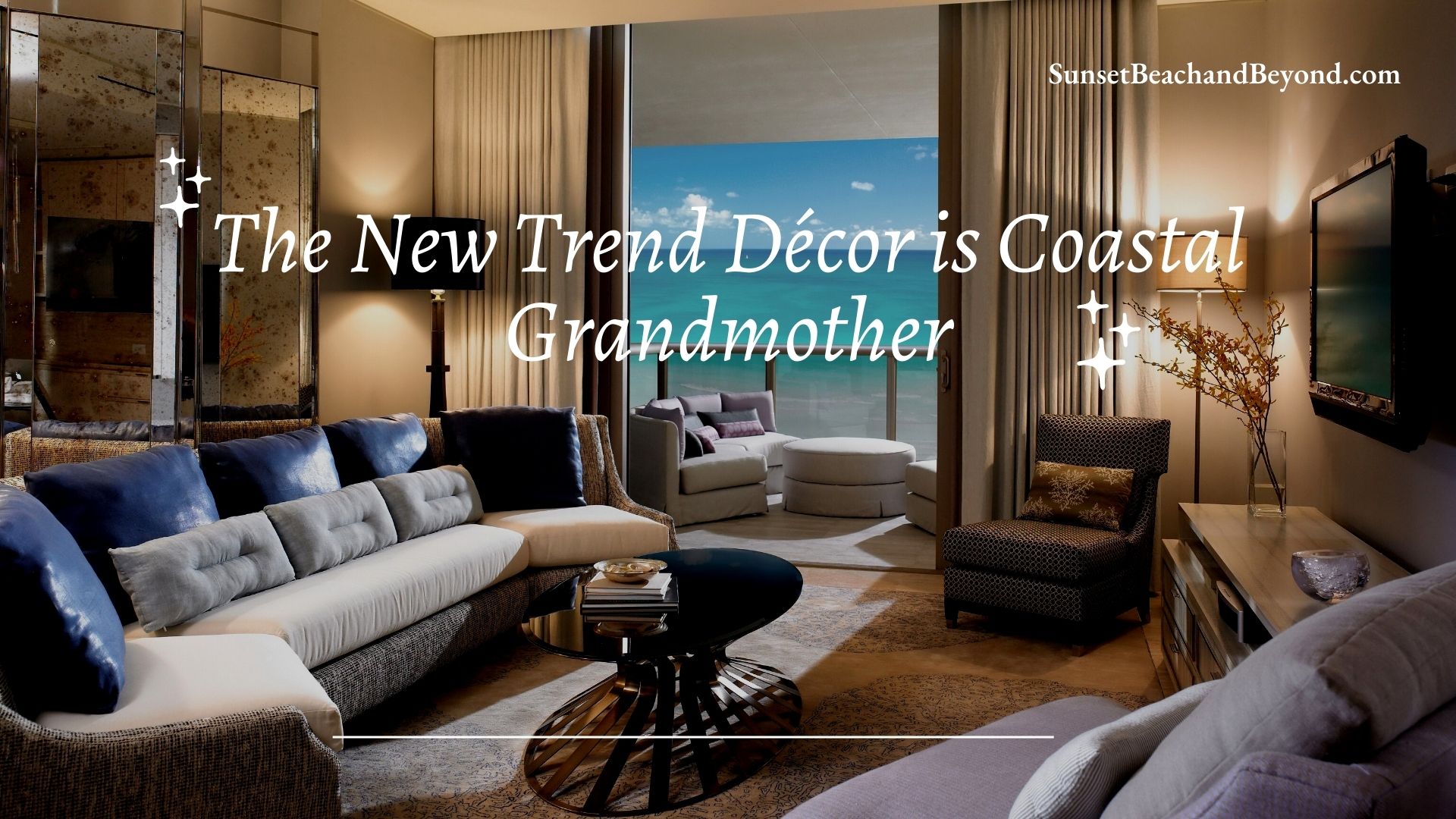 Growing trends are the fad amongst home decor. We have seen cottagecore, an idealized way of rural living, traditionally based on rural English and European life. But what about this new coastal-life-inspired trend coastal grandmother? This is a trend based on the clean and classic style of middle-aged, wealthier women living in luxury along oceanfront properties.
This trend will have you throwing on an oversized white button-up, picking out your best straw bucket hat, and reading yourself to ride the wave of the coastal grandmother aesthetic. This look has taken the internet by storm, exuding my-beach-house-is-the-primary-residence energy. If you are a fan of Meyer's movies, recipes, cooking, and cozy interiors there is a good chance you might be a coastal gran. 
The New Trend Décor is Coastal Grandmother
Mood and Inspiration 
Envision the clear and cool natural light you may encounter on an early morning stroll on the beach. The coastal grandmother style has a duality, being relaxed yet refined, causal but elevated. There is a warm, laid-back luxury that is inviting without being overtly cozy like a mountain cabin. The lines of this design are typically clean, embellished, yet minimal. The mood is all about slipcover, crisp, and yet perfectly lived in. 
Pattern and Palette 
Coastal color is a range within subtle simplicity. Neutral tones borrowed from nature-such as stone, sand, sea, and sky. Layered whites such as ivory and cream can open a room. Other shades such as taupe and beige, tan and pale, and watery blues with an introduction of accent colors such as deeper blues can layer a home. Use little to no pattern, keeping it abstract, but simple and classy. 
Textures and Materials 
For accents of fabric, natural fibers like cotton and linen are the go-to choice of simplicity in a minimalist-styled home. Light, gauzy sheer curtains can allow for a classic oceanside aesthetic with hints of twill and canvas to mix it up. For accents, think of things that will invigorate your sense of touch-chunky knits, tailored fringe, and nubby bouclé rugs. Seagrass baskets can be a wonderful accent to hold throw blankets or pillows. Other fabrics to add dimension for rugs and furniture can include: 
Rattan 

Jute 

Sisal 

Raffia

Seagrass 
Woods for kitchen tables, end tables, and coffee tables take their cue from driftwood, often light, white-washed, and bleached. Hardware in metals like brushed copper, and nickel can add touches of sophistication.
Making it Your Own 
Whether it is kitchens full of antique-looking brushed nickel hardware, or a living room featuring touches of rattan rugs and largely white, linen sofas, this is an aesthetic that allows you to live the life you wish for. Though the coastal grandmother decor has roots in TikTok as a new summer "core," it has been around far longer than noticed, though it now deservedly is retaining the spotlight. 
For more information on the coast, and home styles that mimic the feel of the coastal-living, check out our website for all Sunset Beach Homes.
 More Homeowner Tips
Can you Sell a House with a Broken Air Conditioner?
Life Expectancy of Common Household Appliances
House Plants for a Pet Friendly Home