I can't tell you how excited I am to welcome back the Sunset Beach Summer Market. I feel all hints of frost and cold are behind us and now we are headed on to summer.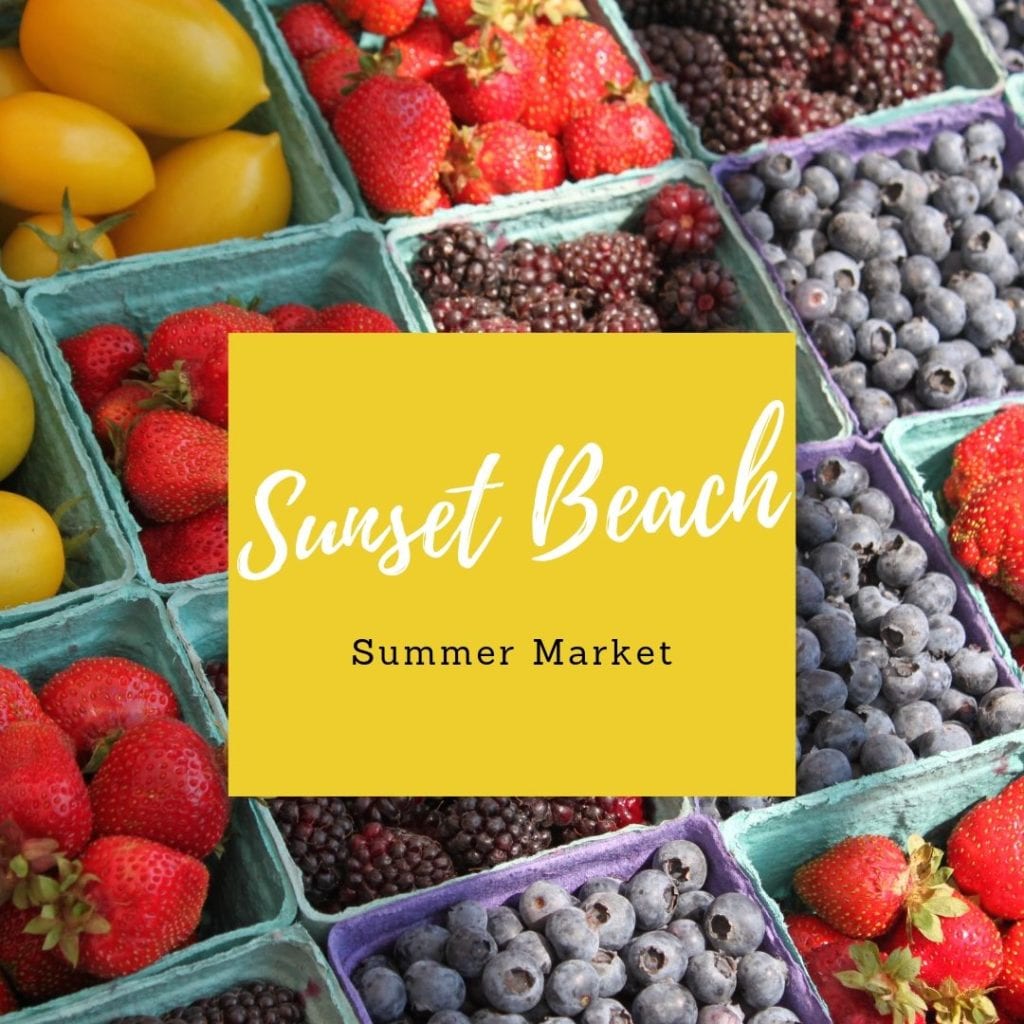 The Sunset Beach Summer Market starts on May 2 through October 10 from 9:00 AM to 1:00 PM every Thursday at 206 Sunset Boulevard. It may be humble, but it is one of my favorite places to visit on a Thursday around Sunset Beach North Carolina. Not only are we a beautiful coastal town but we have local artisans and merchants ready to talk about their wares, share some delicious food, and it's a great place to stock up your groceries for the week. I don't know about you, but my weekly meal planning doesn't start until Thursday. I Peru's the market and see what's going on and then decide on my menu based on what is local and in season that week.
The Sunset Beach Summer Market is put on by "Pure Market", which provides local growers and artisans a venue to sell their goods to customers and encourages the use of local products and locally prepared foods.
The market sponsors and Sunset Beach Holiday Markets have introduced the "Giving Tree" project. This is where donors receive a gift from a vendor in exchange for their donation. Last year, Pure Markets was able to present $1400 to principal Rhonda Benton of West Brunswick high school for their student fund. This is used to meet the needs of underprivileged students. There always looking for some local charities and worthy organizations to share in the "Giving Tree".
So what kind of things are we likely to see at the market?
Some of my favorite things are the local honey, freshly baked breads and goods, which makes excellent breakfast croissants, danishes, cupcakes for dessert, or just your sandwich bread for the week, beautifully scented and homemade natural candles, wood crafting items, jewelry and pottery, and of course all the local bounty in season. I think the first of the year were likely to see some peas, radishes, and all types of lettuces. By the end of summer, you're looking at squash, apples, carrots, and root vegetables. I love building my menu around what's available, sustainable, and in season.
Speaking of, strawberries are in season right now and I'd love to share with you my favorite salad recipe with strawberry vinaigrette.
Fresh Salad with Strawberry Vinaigrette
Pick any type of fresh, tender lettuces, pea tendrils, broccoli and cauliflower that is maybe flowered a little bit, chive flowers, and any other types of greens, spinach, and mache Pilot up on a plate and then top with fresh sliced strawberries, feta or goat cheese crumbles, any type of chopped nuts, herbs such as mint, basil, cilantro, and parsley, chopped chives, sliced radishes, and then drizzle with the vinaigrette.
Strawberry Vinaigrette:
put in a blender 4 to 7 large strawberries, a teaspoon or tablespoon of apple cider vinegar or red wine vinegar, a tablespoon of honey or another sweetener, a teaspoon of lemon juice, a dash of salt and pepper, and then about a quarter to a third of a cup of olive oil. Blend on high until completely emulsified and then drizzle over your salad.
I'm telling you, this is the freshest and most delicious spring/summer salad.
Enjoy! I look forward to seeing you at the farmers market throughout the summer.