Sunset Beach North Carolina is spaced out with residential homes being on the ocean side and then across the intracoastal waterway Residential, golf courses and modern commerce. The unique island style plot of land that falls along Fox Creek and the intracoastal waterway and the Atlantic Ocean is home to roughly 400 or 500 properties. Those that face the waterway have extensive docs out into Fox Creek. Those that face the ocean have wind buffers and long boardwalks out to the beach close to the Sunset Beach fishing Pier.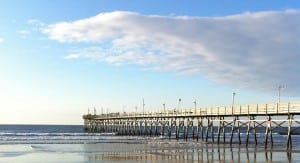 Main Street runs east and west parallel to the ocean and home start about $400,000. There are more homes inland between sixth Street and 40th St. priced from $300,000. Oceanfront homes tend to run a little bit pricier between $450,000 and $1 million. Lots are around 7500 ft.² and homes were built in the 1970s and early 1980s. The majority of these homes feature 2 to 4 bedrooms, 2 to 3 bathrooms and between 1100 ft.² and 2200 ft.². Most of these homes offer beautiful views of the Atlantic Ocean and the sandy beach is just an easy walk away. Residents are usually close to Bird Island and other natural preserves.
 Area amenities when you choose  an oceanfront home in Sunset Beach include biking and walking trails, boating and aquatic activities, an area boat ramp and dock, golf close by and of course, fishing.
 Sunset Boulevard runs north and south straight out to the Pier  so if you're looking for home close to this Pier, you'll want homes on first or second street or 27th and 28th St. Sunset Boulevard is the deciding street between East and West. Many of these homes are smaller cottages, vacation homes or second properties for many Sunset Beach residence.
 Residents that choose a home along Main Street in Sunset Beach North Carolina utilize the local school district and are usually served by Monroe elementary, Shallotte middle school and West Brunswick high school, all of which are within 5 to 10 miles away.
 For a complete list of all oceanfront homes in Sunset Beach North Carolina please contact us at any time. Browse our website for  more oceanfront property information and when you're ready, let us know and we would be happy to offer free showing of any properties for sale in the area.