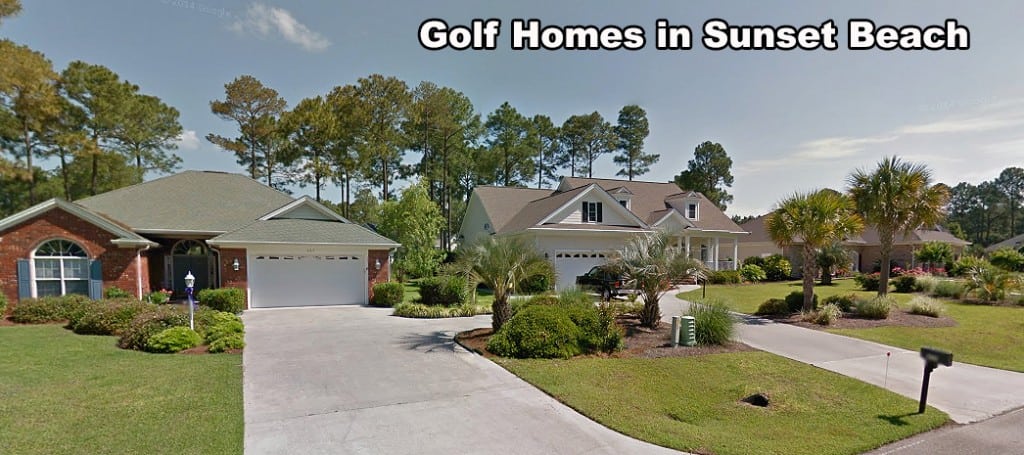 Life on the course screams relaxation, ok maybe not "scream", but a gentle, calm whisper that life is serene and all is right with the world. Golf is not a high impact, loud sport so naturally homes near a golf course are desired by those longing for a peaceful environment. You already want to be by the ocean but golf AND the ocean is just the perfect combination. 
Sunset Beach has 5 golf courses all within close proximity of each other and many have homes and properties running throughout the course. If you're looking for a home on the golf course in Sunset Beach, here are your options and general prices. 
Let's start with Sandpiper Bay Golf Course. Located north of town off Old Georgetown Rd., this course is non-gated and has numerous homes in Sandpiper Cove and Sandpiper Landing as well as apartments and condos in Sunset Village. Nearly every home has golf course views and sits right on the fairways. These homes start about $170,000 to $400,000 and the majority were built between 2000 and 2005. HOA dues are about $70-$100 per month. You'll find a variety of sizes from 1600 square feet to over 4,000 square feet. Average home price here is about $260,000.
Sea Trail Golf Links is one of the largest in the area stretching from Old Georgetown Rd to Sunset Blvd. This golf resort also has a convention center and two clubhouses. About a half of all the homes in this community are on the course. Prices range from $190,000 to $500,000 with the average home price around $320,000 but there are several in a wide range of styles and designs. This is not a gated community but most traffic will only be residents. Homeowners dues are low at just $40 per month. The club features three courses, pro shops, gallery, tournaments and a golf school. There are even guest suits perfect for friends or family that come to visit. 
Oyster Bay Golf Links is located west of town off Shoreline Dr. and is one of the smallest. Although this community is not gated it is private property and only residents and their guests are allowed in the neighborhood. There is a small enclave of homes from $200,000 to over $500,000 and all are custom built between 1995 and 2005. HOA dues vary between nothing and $40 per month. These homes are on larger lots and many have forested lots on the course. 
Other courses close by include the Thistle Golf Club and the Pearl Golf links, which have a few homes around the exterior of the course. 
For a complete list of homes on the golf course in Sunset Beach that match your search criteria and price, please contact us at anytime! We would love to help you find the right home in the right neighborhood.