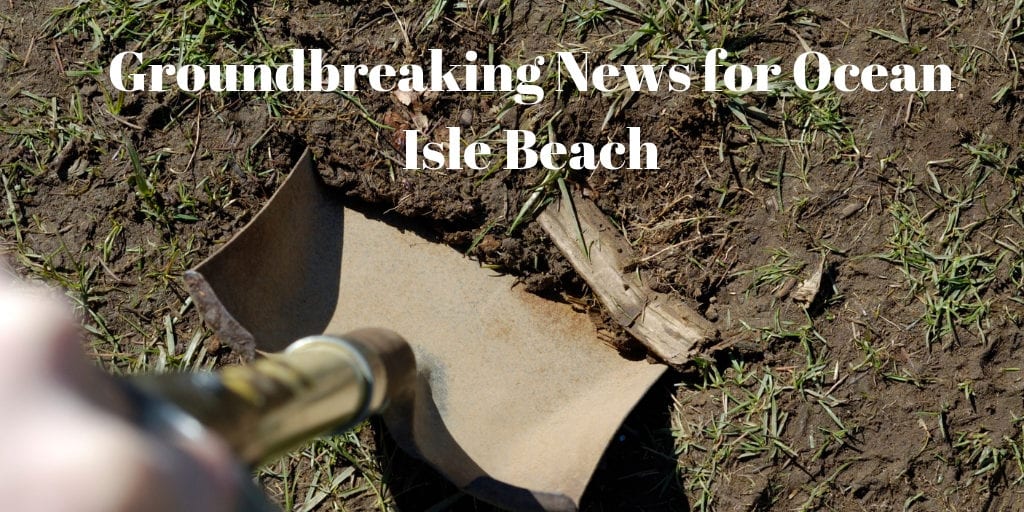 Ocean Isle Beach wants to build a new town hall just off of the island and the town has borrowed $5.7 million from First Bank to finance the project. The new town hall recently broke ground with Mayor Debbie Smith and pro team Dean Walters and commissioners Betty Williamson, Wayne Rowell, Carolyn Blythe, and Dave Green. They had a groundbreaking ceremony on Tuesday, April 16 at 10:00 AM at the new location at 111 Causeway Dr. The Townhall will offer more parking and room for employees. The decision has come after concerns for a permanent structure off the island in case of a hurricane. The board of commissioners approved the project back in March.
Other news in Ocean Isle Beach includes the naming of their newest Park. The park is located at 11 E. 2nd St. and they're holding a contest to name the park. Entries will be accepted from May 1, 2019, through August 2, 2019, and suggestions for Park names must not infringe on any trademarks or licensed products. An in-house committee will select 10 to 20 names out of all the entries and forwarded to the town of Ocean Isle Beach board of commissioners which will then select the winning name. The winner will be announced on August 13 at a board of commissioners meeting. The grand prize winner will get a gift basket filled with local treasures.
In other Park news, Island Park has completed its renovations and now have access open to the public.
Feel free to visit the Ocean Isle Beach Facebook page to stay abreast of all the latest information, events, and news around Ocean Isle beach.