Myrtle Beach lies just over the border of North and South Carolina in SC and home to about 30,000 residents. There are nearly 30 neighborhoods and it's the 14th largest community in South Carolina. It also has some of the most expensive homes in the state.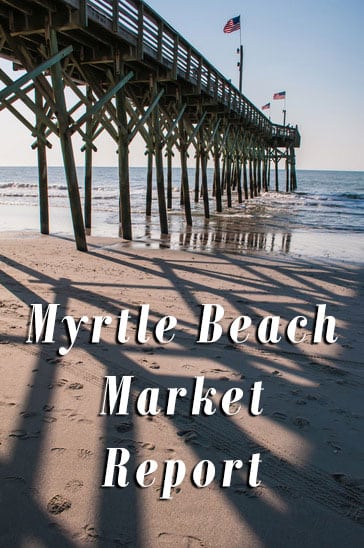 Currently, Myrtle Beach has a median list price of $179,000 and an average list price of $205,000 for the end of 2015. Of course this is when there are not many homes on the market and prices in general are a little lower. Home prices rise greatly in the summer months and over the last 20 years appreciation has gained over 105%. In the last 12 months, appreciation has increased 8% and over the last quarter over 2%. 
The median days on the market is about 124 for this time of year, which has increased slightly from one year ago. The median price per square foot is $126. There are very few distressed properties on the market anymore but buyers can find a fixer or great short sale here and there on occasion.
In a recent article by MyrtleBeachOnline, the home equity for homes in this area increased greatly in 2015. We are back in line with a balanced market after the crash nearly 10 years ago and the market is priced to historical norms.  Homes purchased in 2012 have seen a near 16% growth gaining an average of $30,000 and a nearly 5% growth just since 2014. 
Jobs also have been a huge factor in new residents for Myrtle Beach. Over the last year, the job market created 3,900 new jobs and the current unemployment rate is 7.5% however this is slightly higher than the national average. The area is still creating more jobs at a rapid rate which outpaces the national average and draws more potential home buyers into the market. 
If you're looking to buy or sell in Myrtle Beach in 2016 you should be set to gain a profit. Increases are inevitable and if you're wondering what your home may be worth, give us a call at anytime!