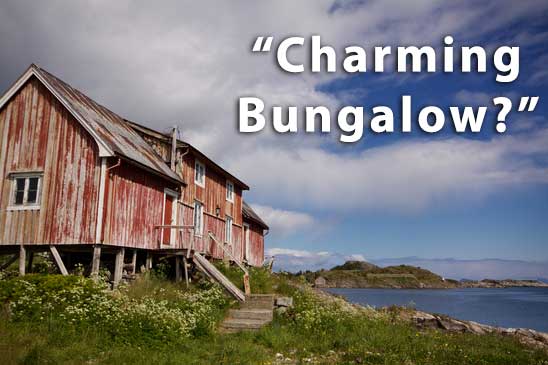 They say a picture is worth a thousand words; well one or two of those words can really make or break a listing description. How are you or your agent describing your home? It's in these words that really draw a buyer in and potentially sell a home. 
Here are 5 Great Words or Phrases that Help Sell a Home
Think of words as an investment
Less is not necessarily more but flowery words that don't really tell the buyer what the home is all about it just fluff. Use words wisely in all advertising including social media. If you want your home to sell, it helps to use the right words in all areas of marketing. If you're looking for an historical home what works more? "Historical Home" or "19th Century Ornate Dark Wood Accents", "Restored Era Architecture", or "Step Back in Time in this Immaculate Glimpse into the Roaring 1920s". Really describe what the home is like. Think about the type of buyer that would want this home, then tailor the words to fit that buyer.
2. Don't Sell Your Opinion.
Just because you think the home is beautiful, someone else may not. Don't use your opinion to sell the home, use facts. Many of these words are open to interpretation. Actually describe the property. You may want to describe the home is beautiful but instead it would be better to describe it as a "Cape Cod style, rustic, multi-story oceanfront property with nautical architecture, materials and accents." This is much easier to picture in your mind than simply saying "beautiful"
3. Try not to use superlatives.
Don't use exclamation mark statements such as "It's just fabulous!" and "You'll love this!" These are somewhat opinionated superlatives and you always pose a risk that if the buyer doesn't agree that the home is everything you stated you could look silly or desperate and may not be trusted. You don't want to appear lazy by using them fluently. Be practical, honest, and descriptive. The term "impeccable" will imply that the home is extremely clean and well-maintained. The term "landscaped" can add a lot of value to the home if this is more than simply a well mowed lawn. The term "landscaped" should imply that the home has some very unique landscaping features such as carefully trimmed bushes, trees, shrubs, flowerbeds and a lawn. But you don't want to use terms such as "You should see this lawn!" Describe the lawn and landscaping, especially if it's a great selling point.
Related: 5 Landscaping Tips to Increase the Value of your Home
4. Focus on the positive features
Stick to words that build up the positive features. The term "updated" and "upgraded" are great terms to use if they've actually been utilized. If the home is older than about 20 years but the kitchen has recently been updated it's important to mention key features to that upgrade if applicable such as granite countertops, new cabinetry, new floors and stainless steel appliances. If the home has a fantastic deck, emphasize the positive by stating that the "oversized deck off the back is in the perfect location for beautiful oceanfront views and breathtaking sunrises, perfect for entertaining with space for multiple chairs, tables, patio sets and a barbecue."
5. Use language everyone will understand
It can be very easy for real estate agents to use "stock" language that every real estate professional should know but that's not to say that every buyer will understand what the agent actually means. The term "charming starter home" to a real estate agent means that the home is small, inexpensive and may need work but to a homebuyer, they may think this is a great home or they may see it and determine it needs demolition. Use simple, clean, and understandable language that truly describes the property to the right buyer. If the home needs a lot of work, simply state that. They're going to find out anyway during the home inspection or when they tour the home so avoid showing the home to buyers that simply wouldn't be interested regardless.
For more information talk to your real estate agent about the best way to describe your home using positive words, accurate descriptions and terminology that invites the right buyer.