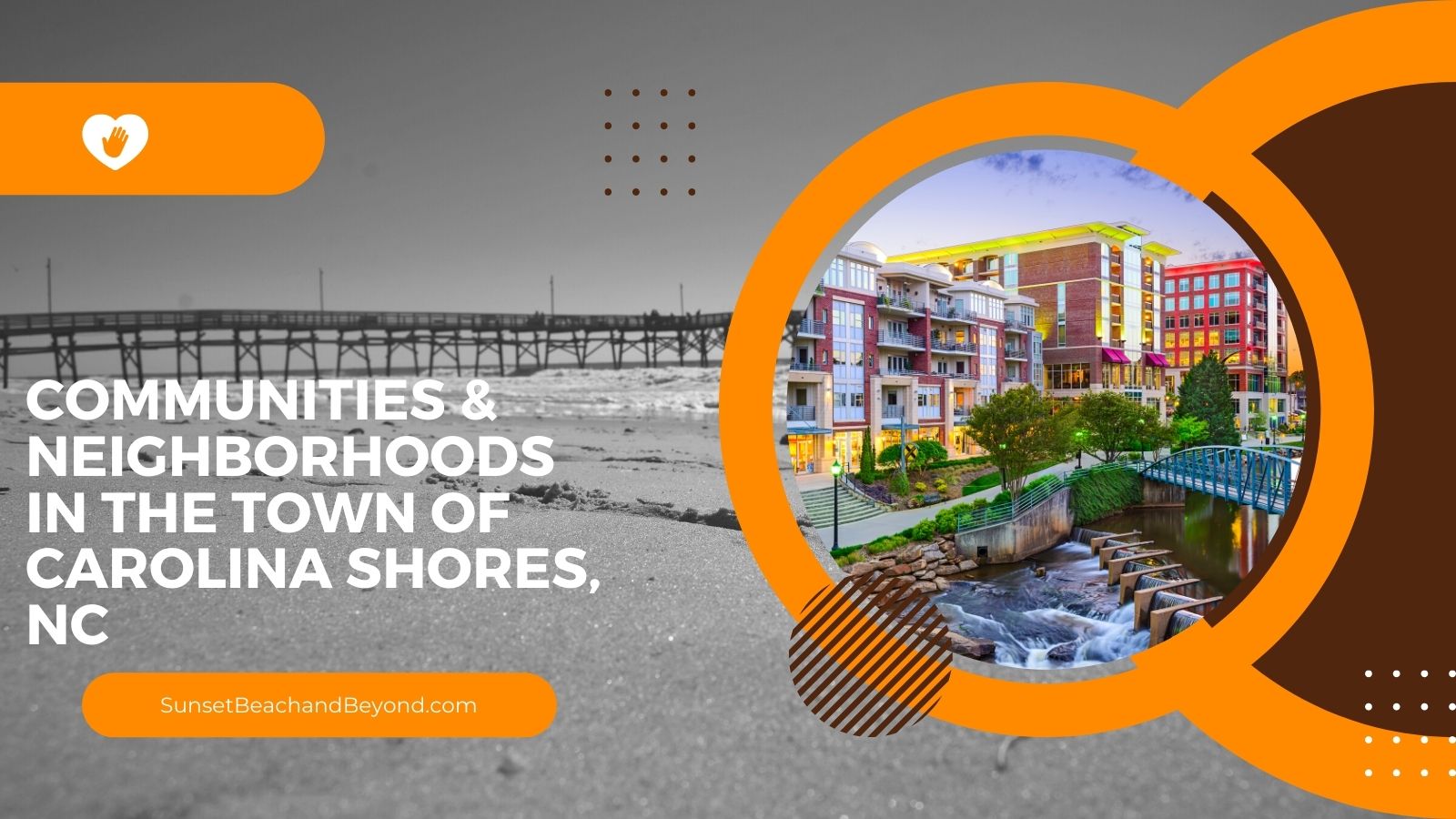 Living in a good community gives people a sense of belonging, with connected neighborhoods leaving people feeling healthier and happier about their lives. Many will be more likely to vote and recycle, aiding in a flourishing community. 
Continue to read about some wonderful communities & neighborhoods in the town of Carolina Shores, NC. 
The town of Carolina Shores, NC is comprised of seven planned communities: 
the Carolina Shores Subdivision 

the Farm at Brunswick 

Calabash Lakes 

Beacon Townes 

the Village at Calabash 

Lighthouse Cove 
Let's break each of these communities down in a way to look at the perks of moving to the area! 
1. Carolina Shores Subdivision 
The Carolina Shores Subdivision is partly built around a privately owned 18-hole golf course and clubhouse, originally making up the town's population. There is a community building that homes the POA offices, library, swimming pool, a pavilion for large picnics, tennis courts, pickleball courts, and bocce ball courts. The community is largely comprised of single-level homes, patio homes, and villas. There is an added area known as The Acreage which has single-family homes on one-acre lots. 
The town of Calabash is adjacent to the neighborhood and is famous for Calabash-style seafood! Because Carolina Shores is located in Brunswick County, there are many beaches just a step away including Sunset Beach, Ocean Isle, and Holden Beach. Shopping, entertainment, restaurants, and beaches are the reason that many vacations here, and others become residents. 
The Carolina Shores POA Board of Directors' role is to not only protect property values but also to preserve and improve the quality of life of the residents in this community. All elected Directors are residents who volunteer both their time and their energy to manage the community. 
2. The Farm at Brunswick
Getting its start in 2004, The Farm at Brunswick has grown by over 150 acres as a residential community consisting of single family homes and townhouses. The Farm at Brunswick has space that is planned for 527 single-family homes and 283 townhomes on 262 acres. There is an amenity center, a clubhouse, a nature trail, and a few common areas. This community is located just minutes from the Atlantic Ocean with four seasons of pleasant weather ensuring that outdoor recreation can be enjoyed. Those who are avid fans of golf will love this area, as there are 20 golf courses situated within just 5 miles. 
3. Calabash Lakes 
Calabash Lakes is a residential community with amenity centers, a clubhouse, and common areas. Located in Calabash, NC, a lot is going on for this community in the town. Known for being a smaller fishing town, it holds the title of "Seafood Capital of the World," with fresh catches featured on menus in every restaurant. Myrtle Beach is the closest beach to the town, just 10 minutes down the road. There is plenty of shopping in and around the town, as well as many luxury golf courses offered to both residents and those visiting the area. 
4. Beacon Townes 
Beacon Townes is a low-maintenance community located in Carolina Shores, NC with the HOA keeping the community looking as beautiful as ever. This community features several private amenities for homeowners, with a center and multi-purpose room for events and social gatherings. There are outdoor pools and cabanas in the amenity center, as well as two scenic ponds surrounded by natural space to add beauty to the community. Residents of the community enjoy participation in social groups and community events held in the neighborhood. Residents can enjoy a great number of shopping locations, restaurants, and golf courses. Restaurants near the area include Bella's Pizza & Deli, Waterfront Seafood Shack, and Beck's Restaurant. 
5. The Village at Calabash
The Village at Calabash community is a quiet residential community, consisting of 520 single-family homes including an amenity center, clubhouse, and common areas. Those living in this community are very involved in events, especially events that include social events with fellow residents. There are craft fairs and bake sales in the community. When there are holidays, the community hosts an annual Easter egg hunt for kiddos in the neighborhood. 
6. Lighthouse Cove 
Lighthouse Cove is a community that was developed in 2005 and planned out for 181 single-family homes with a feature including a common area. The community is located only a few minutes away from North Myrtle Beach, Sunset Beach, and Ocean Isle Beach, offering coastal living at its finest with nearby medical facilities, shopping, and famous restaurants nearby. The quality of the construction of the housing is remarkable, with many floor plans being available for those looking to build in the neighborhood. There are dog parks and tennis courts for those looking to get some sun. Dining options include a wide variety of Italian, Chinese, and especially fresh-caught seafood. There are, of course, golf courses, with Thistle Golf Club Clubhouse featuring an impressive 27 magnificent holes, and designed to be traditionally Scottish. 
For more local information on Sunset Beach realty, and local town communities, check out our website.