Carolina Shores is a small town in Brunswick County North Carolina just north of the border of South Carolina and home to about 3000 residents. It's considered part of the Myrtle Beach Metropolitan area and was incorporated just recently in 1999 after a split from the town of Calabash.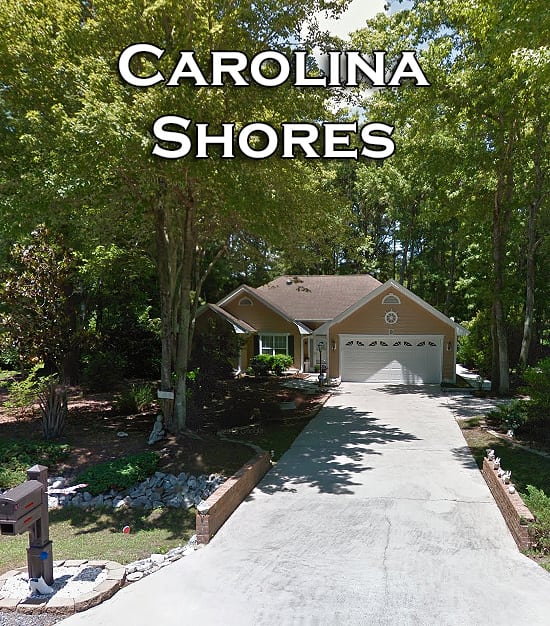 Carolina Shores is made up of six planned communities: the Carolina Shores subdivision, the Farm at Brunswick, Calabash Lakes, Beacon Townes, the Village at Calabash, and Lighthouse Cove. The entire community borders the ocean highway on the north and Highway 179 on the south but is interlocked with Calabash.
Here's a rundown of some of the smaller neighborhoods and planned subdivisions of Carolina Shores.
Beacon Townes – This is a planned townhouse community featuring 152 townhomes with common areas, community pool and over 32 acres of fields, greens and residential communities. The city of Carolina Shores handles most of the necessities including garbage and recycle, water, sewer and maintenance of green space, trails and amenity centers. This community is located in the northern section of Carolina Shores just next to the Food Lion Grocery Store, Williamson Hughes Pharmacy and highway. These townhomes range in price from about $120,000-$200,000.
Calabash Lakes – This community was started in 2007 and features 103 single-family homes, 265 townhouses and 86 duplexes, all situated on about 164 acres. Residents enjoy the amenity center, clubhouse and common areas. This community is still being built out and features homes and lots between $120,000 and $300,000.
Carolina Shores Subdivision consists of numerous residential neighborhoods adjoining the golf course with single-family homes, patio homes, gated homes and villas. This also includes part of the Acreage Estates, which are 1 acre single-family lots.
Lighthouse Cove was developed in 2005 is located on the eastern side of Carolina Shores. This residential community is home to about 180 single-family homes on over 56 acres. The community features and amenity center, clubhouse and several common areas. These homes are priced from about $150,000.
The Farm at Brunswick was developed in 2004 and is approximately 150 acres. This residential community consists of single-family homes and townhouses. When completed, it is designed for over 500 single-family homes and 280 townhomes on over 260 acres. 84 of those acres are for nature trails, common areas and green space. These homes are set at about $200,000 on up.
The Village at Calabash – This subdivision was one of the first in the area developed around the mid-1980s and annexed by the town in 2003. This residential community consists of 520 single-family homes with a clubhouse, community center and over 170 acres of green space and major trails. These homes range from about $120,000-$400,000 depending on size, condition and location.
For more information on the subdivisions at Carolina Shores, homes, real estate or if you'd like to tour any of the homes up close and personal please contact us at any time. We'd love to send you a customized list of homes in Carolina Shores that mean your search criteria and price.