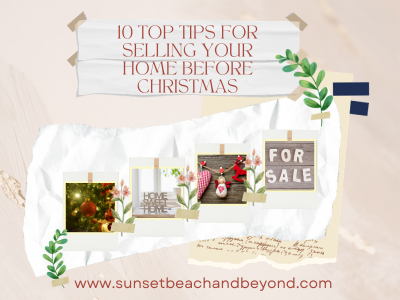 It seems like we were just in the peak of summer and yet, somehow, the Holiday Season is seemingly right around the corner! Where are the days going? While a lot of the country is looking forward to the holiday season, some people are hoping to sell their home before the Holidays. It's not ideal to be selling your home or even buy a home around the holidays, but it still happens and whether it's a job change, family status change, or you have finally found the home of your dreams, selling before the end of the year can be stressful. However, there are some ways to do it so that you feel confident and prepared. 
Tips for Selling Your Home Before Christmas
#1. Research.
Make sure you've done enough research on the current housing market before listing your home or even before nailing down a real estate agent. And remember, real estate markets change from one neighborhood to another so it's a good idea to browse the neighborhood and find out what's selling and tour any open houses that might be available.
#2. Get prepared.
Begin organizing your finances in advance. By gaining an understanding of the expected selling price of your current home, you can devise a budget to allocate a substantial down payment for your future home. It's crucial to ensure your financial readiness for the entire moving process, especially around the Holiday Season when most people tend to spend more than in other months and times of year. Think of ALL expenses, things such as rental trucks, travel expenses, and packing supplies, etc. 
#3. Get listed as quickly as possible.
Find a real estate agent that is familiar with homes and how they're selling in your particular neighborhood. A great agent can only use their knowledge in an area they are familiar with. Get the home on the market as quickly as possible. Remember, someone else's going to want to buy and close before Christmas as well.
#4. Have a list of items that need fixing, repairs, or replacements.
Before selling your home, there are always miscellaneous tasks and minor repairs that need to be done. Regardless of whether your home inspection report highlights them, it's advisable to begin addressing any issues ahead of time. Create a list of DIY resources or consult your real estate agent for recommendations on reliable professionals to handle minor repairs.
#5. Get your staging under control.
Staged homes tend to sell faster and for more money so you'll definitely want to make sure that your home is properly staged if you're going to be selling your home soon. If you need to, hire a staging company to give you tips and tricks and whether they use their furniture or your own, the home needs to have a great flow and welcome buyers in. You can play on the holidays or choose to keep is crisp and clean – chat with your agent to see what appeal they feel would be best for your specific neighborhood. 
#6. Stay on top of all timelines.
During this season, one of the most significant hurdles in the home selling process is maintaining a well-coordinated timeline. Ensure that your real estate agent possesses expertise in managing buying and selling simultaneously. Keep open lines of communication with the escrow, lenders, agents, and all parties engaged in both property transactions to streamline the process effectively.
#7. Be flexible.
This time of year it gets darker earlier and we have to be flexible with showing the home on the buyer's schedule. Of course, buyers need to be reasonable as you would be showing a house at midnight or 6 AM, but being flexible means that more people will be in the door and be able to see your home.
#8. Offer photos of the home during different seasons.
It's starting to get darker earlier and earlier and potential buyers may struggle to appreciate your backyard and its landscaping. Try taking photos of your home during daylight hours to showcase its beauty in your online listing. If you have images from the summer or spring when the landscaping is in full bloom, include those as well. Providing prospective buyers with a visual representation of your home in different seasons allows them to gain a better understanding of their potential purchase.
#9. Don't forget tax breaks.
Winter homebuyers may be more motivated to get the tax benefits of buying a home before the end of the year. Homebuyers can write off some of the expenses of their home purchase such as mortgage interest, private mortgage insurance premiums, and real estate taxes. Make sure you talk to your real estate agent about the benefits you can get to selling before the end of the year.
If you're hoping to have your home sold before Christmas, now is the time to start planning and prepping! Feel free to contact our office today and we'd love to help you achieve your real estate goals before the New Year rolls in!