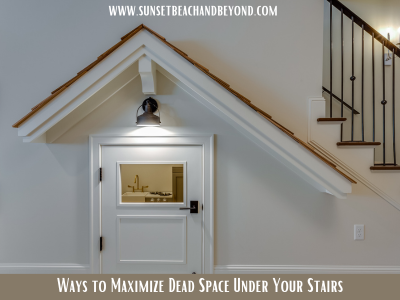 If you have a two story home, your stairs might case storage problems. Finding ways to maximize your storage space is a common thing that many homeowners strive for. While there are many common ways to add some extra space such as adding some shelving to the laundry room, getting a coffee table with built in storage space, or purchasing bed frames that have pull out drawers, one common area you may have dead, unused space in your home, is under the stairs!
So, How to You Maximize the Space Under Your Stairs?
#1 Create a Cozy Canine Retreat
Transform the space beneath your stairs into a welcoming DIY dog house without breaking the bank, costing anywhere from $200 to $1,000. All you'll need are a few comfy pillows or dog mattresses and a little ingenuity to craft a built-in doggy haven that features a snug hole beneath the stairs, ensuring your furry friend has a cozy space to call their own.
#2 Grab a Book in a Relaxing Reading Nook
Maximize the space under the stairs by fashioning a captivating reading nook. Outfit it with plush pillows, soft blankets, warm lighting, and a petite shelf for your favorite books. This cozy alcove will become your sanctuary for leisurely escapes into the world of literature.
#3 Elevate Your Wine Collection
Elevate your home's sophistication by transforming the under-stair space into a wine enthusiast's paradise. Install stylish wine storage racks and a wine fridge for perfectly chilled bottles. This innovative wine cellar not only saves space but also showcases your collection, making it a talking point for wine aficionados.
#4 Create a Play Area
If you have small children, this could provide the perfect space for a small play area without having toys thrown around your home. You could create a small playhouse, build a "restaurant" with a fun service window/door and a play kitchen, the options are truly endless when it comes to the ideas you can bring to life by creating a play space for your little ones. 
#5 Tailor-Made Storage Shelves
Make the most of the space under the stairs with custom-built shelves designed to fit your unique needs. These versatile shelves can be tailored precisely to the space or opt for pull-out pantry-style shelving, ideal for organizing shoes and additional storage. Say goodbye to clutter and hello to a more organized and efficient living space.
When it comes to creating extra storage space, it can be for multiple different reasons. Whether you're hoping to make enough space to where you don't feel you need to move into a bigger home, or you're simply trying to ensure you don't waste space in your home, by trying one of these ideas for under the stair storage, you are not only maximizing space, but you're also creating a one-of-a-kind space that is unique to your home.
If you're in the market for a new home, whether a new construction, turn key home in a master-planned community, or a historic charmer that is just waiting for a touch of modernization, please feel free to contact our office at any time and we'd love to help make your homeownership dreams a reality.