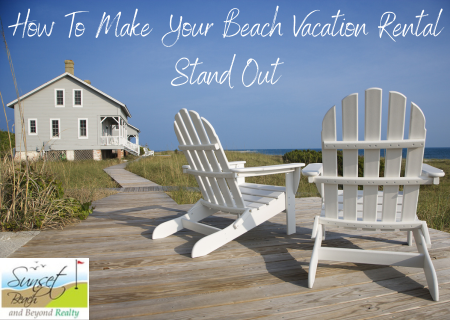 Do you own a vacation rental or are considering owning one but worried about the success of running it? There are a lot of things you can do to minimize your vacancy and make your vacation rental stand out among the rest. Read below for some great tips and tricks that you can use as a vacation rental owner to boost your bookings and get great reviews from your guests.
How To Make Your Beach Vacation Rental Stand Out
Your Market
It is so important that you understand the market you are in. This means you want to offer your guests what they are looking for when they book a stay at your rental and in your city. What type of people will be visiting your property and what is special about the location that you can highlight for guests?
Guest Needs
running your rental is running a small business and every business needs to know what its guests want in order to be successful. Check all of your competitors and see what they are offering their guests. Use a reputable booking system that is very user-friendly. Make sure your property is professionally cleaned and that your cleaning company is well-vetted. You want all of your house items well stocked and extra thoughtful things to stand out. If you want to go the extra mile you can add some kind of thank you gift or note to thank your guests for their stay.
Make Things Easy
You want to make sure your guests have ease in their stay. This means you are giving them the best possible experience. Most likely this vacation is something they have planned and worked very hard for. Make sure your check-in process is smooth. There should always be a 24/7 contact available in case of an emergency. Have a visitor's book available that also provides any house rules or expectations. This is usually in the form of a welcome book. Leave a small vacation starter pack for them and include things like butter, milk, eggs, some toilet paper rolls, and maybe a few chocolates. Make sure they have all of the information they need to use any of the amenities in the home so that they can have peace of mind during their stay.
Decorate Your Property
Decorate your property well and try to find something that makes it stand out. You could use a cool color scheme or theme for the home that will leave visitors talking and posting. Update all of your furniture and consider how you will need to replace things due to use as time goes on and the home gets good use because of bookings.
Experiences
Think about how you can create great experiences. Is there a game room or some kind of exciting activity your property has? Are you in close proximity to a great activity? Can you capitalize on this and offer a discount to your guests for this specific activity?
Use Tech
Consider how you can use tech to create ease for your guests. Create a digital guidebook and make sure you use digital check-in and check-out.
Social Media
Use social media! This is the best way to promote what you are doing with your rental and it will help you increase your vacation rental bookings.