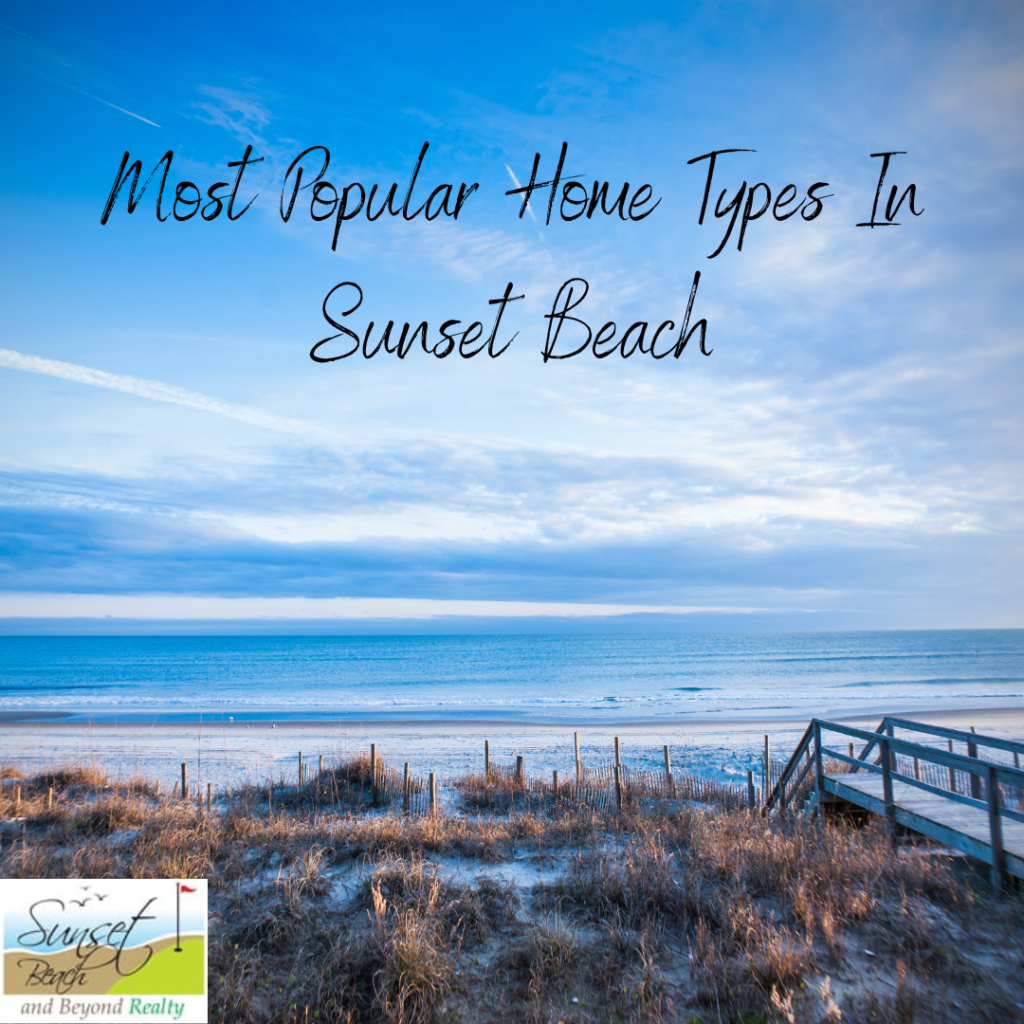 Welcome to Sunset Beach, a captivating coastal community nestled in the heart of North Carolina and is filled with stunning housing styles. Known far and wide for its awe-inspiring vistas and relaxed atmosphere, the beautiful town enchants residents and visitors alike with its picturesque beauty. As with any thriving community, the popularity of home types in Sunset Beach may evolve with the ebb and flow of time. However, there are certain timeless choices that have consistently captivated the hearts of those seeking their perfect abode in this idyllic locale. In this guide, we will explore some of the most sought-after home types that have graced the shores of Sunset Beach, each offering a unique blend of style, comfort, and coastal living. From beachfront homes that provide unrivaled access to the tranquil shoreline, to bungalows that exude charm and coziness, and Mediterranean-style villas that evoke a sense of elegance, there is something to suit every taste and preference in this vibrant community. So, let us embark on a journey through the most sought-after home types in Sunset Beach, where the beauty of the coastline and the allure of the laid-back ambiance converge to create a truly enchanting living experience.
Most Popular Home Types In Sunset Beach
Beachfront Home
With its prime coastal position, beachfront homes are highly coveted in Sunset Beach. These properties offer direct access to the beach, picturesque ocean views, and a serene lifestyle.
Bungalows
Bungalows are a prevalent choice in the area and are wildly popular. These single-story houses typically boast a cozy and open layout, often featuring a porch or veranda, perfectly suited for the beachside lifestyle.
Mediterranean-style Villas
Sunset Beach exhibits a Mediterranean influence, and many homeowners embrace this architectural style. Mediterranean-style villas commonly showcase stucco exteriors, red tile roofs, arched windows, and ornamental elements that exude elegance and warmth.
Contemporary Homes
In recent years, contemporary-style homes have gained popularity and can be found all throughout town. These residences typically incorporate modern design elements, such as clean lines, open floor plans, and expansive windows that maximize natural light and views.
Cottage-style Homes
Those seeking a cozy and charming atmosphere often opt for cottage-style homes. These residences often feature distinctive architectural details, including pitched roofs, dormer windows, and a blend of exterior materials like wood and stone.
Townhouses
Townhouses provide a convenient and low-maintenance living option in Sunset Beach. These multi-level homes are frequently part of planned communities that offer amenities such as shared green spaces, swimming pools, and communal areas.
In Conclusion
While Sunset Beach boasts a range of sought-after home types, it is crucial to recognize that preferences can change as architectural trends evolve, market demands shift, and individual tastes vary. To stay informed about the current popularity of home types in the area, it is advisable to consult with a local real estate agent or conduct thorough research. These resources will provide you with the most up-to-date information, ensuring that you make well-informed decisions when it comes to finding your dream home in this captivating coastal community. Embrace the charm of Sunset Beach and embark on your journey to discover the perfect home that aligns with your unique preferences and desires.
For additional information on buying, selling, or investing in real estate in Sunset Beach, please reach out to us.