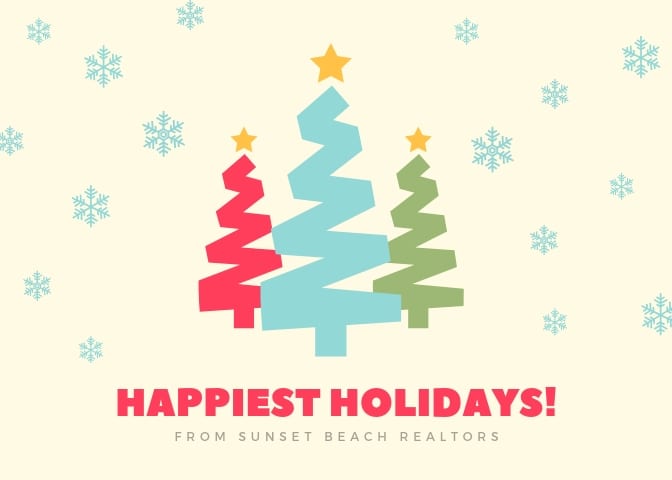 Looking for something fun to create memories of this holiday season? We have some of the most exciting and fun events around Sunset Beach and calabash this year. Here's what's going on.
Christmas at the Old Bridge Preservation Society. On December 4 at 5 PM, you can join us for the annual tradition to get us into the Christmas spirit and kick off the holiday season. The event will have holiday refreshments and music, carols, food and more. Located in Sunset Beach.
Calabash parade and tree lighting ceremony – on December 7 at 6 PM you can celebrate the 23rd annual Calabash Christmas tree lighting and parade in downtown Calabash. Enjoy local entertainment, Christmas caroling, hot chocolate, refreshments, crafts, and of course get your picture taken with Santa Claus. The parade begins at 6 PM followed by entertainment and the Christmas tree lighting at 7.
Southport Winterfest 2018 begins December 1 through the ninth. There are hundreds of things going on including the boat Parade, winter craft Festival, annual cookie contests, supper with Santa's elves, a hosted movie of Polar Express, the Christmas fire engine parade, and Winterfest performing arts and historical tours. Check with the Southport's city website for details.
Christmas at Pirates Voyage – this amazing dinner and a show celebrates the spirit of Christmas through January 5 in Myrtle Beach. The Crimson and emerald Pirates want the coveted Christmas treasure but Capt. Scrooge has already laid claim to it. Enjoy this unique twist on a classic favorite. Join us at 8907 North Kings Hwy. in Myrtle Beach this year with lots of different times and pricing for just about every budget.
Christmas the train show in Ocean Isle Beach December 1-2 from 10 AM to 4 PM at the Grissettown Longwood Fire and Rescue. Located at 758 Longwood Rd. is the 13th annual Christmas train show. Enjoy the smallest "Z" scale to the larger G scale models in over 20 different layouts. If you are a train aficionado or someone in your family is, you won't want to miss this unique event.
Southport's Christmas Tour of Homes on December 8 from 1 PM to 6 PM in historic downtown Southport. There will be several beautiful homes in this year's annual Christmas tour of homes. Tickets are just $15 in advance or $20 the day of the tour and maps and tickets are available at Fort Johnson Southport Museum Visitors Center, the Southport Chamber Of Commerce Where the Franklin Square Gallery.
Candy Cane Flashlight Hunt on December 14 in Oak Island, located at 4446 Fish Factory Rd. SE. From 6 PM to 8 PM you can hunt for candy canes and red and green eggs, which is fun for the whole family on the softball field at the William Smith Park. Enjoy hot chocolate and even a visit with Santa.
Whatever you and your family choose to do this year, we wish you and yours a very happy and safe holiday season.