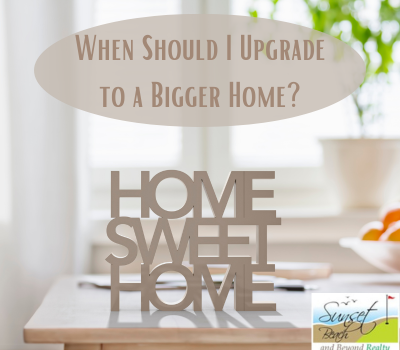 Buying a home in the Carolina's? Maybe it's time for an upgrade? But there are a lot of questions to be answered. Here are some of the most common from people moving to a bigger home.
#1. How do you know you need a bigger home?
Is getting more crowded in the bathroom in the mornings? Our kids piling up in the bedrooms? Do you feel like you're just walking over everybody throughout the house? It might be time to upgrade your home. You might just be a little bit of space. Maybe you have pets and are taking up more space than you'd like. Maybe you need a bigger backyard, your family room, larger layout or just a more open space; whatever the reason, you know you need more home.
#2. Can we afford a bigger home?
In this market, you might be nervous about selling your property and buying another one because the market is so high and so hot right now. It might be a great time to sell that is a good time to turn around and buy again? It's important to talk to your real estate agent and your lender about buying and selling at the same time.
Your lender will discuss how much you need in order to afford a bigger home and what the current market is doing so that you know how much you can sell your home for in order to put more equity into your new home. A lender will also look at all of your income, debts, assets, and liabilities to give you a fair and accurate assumption of how much you can afford in a monthly mortgage payment. If everything falls into place perfectly, you may be able to transition easily.
#3. How much does it cost to buy and sell simultaneously?
This really is a balancing act. Lenders, escrow agents, real estate agents, buyers and sellers all need to work together to make a cohesive simultaneous purchase and sale. But, don't fear, because it can happen. It happens all the time. You have to decide when is the right time to do it and do you sell first or by first? There are a lot of factors involved to that one question. Your agent may feel that now is a great time to sell and then look for homes or look for the right home and then put the house on the market because it will sell quickly. This really is a strategic game to play and an experienced, qualified and seasoned agent can help you get there.
A lot of times you can simply move money from one house to the other making your out-of-pocket costs very minimal when it comes to moving to a bigger home. You may have to pay for a home inspection out-of-pocket, which can run anywhere from $300-$800. But, closing costs, and down payments may be able to come from the sale of your existing house. You may need to come up with an earnest money deposit, which is typically 1% to 3% of the purchase price of the home you are buying.
Upgrading to a bigger home because you need it is a necessity for your family. Finding the right home and pulling the trigger at the right time is something that you, your lender and your real estate agent can all discuss.