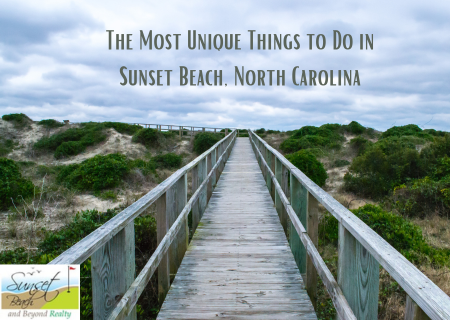 Nestled on the southeastern coast of North Carolina, Sunset Beach is a charming and picturesque destination that offers a plethora of activities for beach lovers and nature enthusiasts alike. While it's beautiful coastline and relaxing atmosphere are its main draws, this idyllic coastal town also hides some unique and lesser-known gems waiting to be explored. In this blog, we'll take you on a journey through the most distinctive and unforgettable experiences Sunset Beach has to offer.
The Most Unique Things to Do in Sunset Beach, North Carolina
Kindred Spirit Mailbox
One of the most enchanting and unusual attractions in Sunset Beach is the Kindred Spirit Mailbox. Located on Bird Island, a natural reserve just a short walk from the main beach, this mailbox serves as a communal journal. Visitors leave heartfelt letters, poems, and messages for others to read, making it a place of reflection, hope, and connection. Adding to the charm is the journey to reach the mailbox, as it involves a scenic hike through pristine dunes and maritime forests, offering a unique experience in communion with nature.
Bird Island Coastal Reserve
While visiting the Kindred Spirit Mailbox, take the opportunity to explore the Bird Island Coastal Reserve. This undeveloped barrier island is a haven for wildlife and a paradise for birdwatchers. The reserve's diverse ecosystems, including dunes, marshes, and tidal creeks, make it an ideal spot to observe various bird species, such as painted buntings and migratory shorebirds.
Sunset Beach Turtle Talks
For nature enthusiasts looking to learn more about the local wildlife, attending a Sunset Beach Turtle Talk is a must. This educational program, organized by local conservationists, sheds light on the loggerhead sea turtles that nest on the beach each summer. Participants get a chance to witness these magnificent creatures up close and gain a deeper understanding of the conservation efforts in place to protect them.
The Old Bridge Museum
Delve into the rich history of Sunset Beach by visiting The Old Bridge Museum. Housed in the iconic Sunset Beach swing bridge tender's house, the museum showcases the town's heritage, including its fascinating bridge history. Explore exhibits and artifacts that depict life in Sunset Beach before the current Mannon C. Gore Bridge was constructed. The museum is a fascinating trip back in time and a unique window into the past.
Kayaking in Jinks Creek
For a change of pace and an opportunity to explore nature from a different angle, rent a kayak and venture into the tranquil waters of Jinks Creek. This winding tidal creek is teeming with marine life and offers a chance to see dolphins, birds, and other creatures in their natural habitat. Paddling through the serene waters surrounded by lush marshes is an experience that will leave you in awe of the region's biodiversity.
Ingram Planetarium
On those rare rainy days or when you crave a celestial experience, head to the Ingram Planetarium. This state-of-the-art facility features a 40-foot dome theater that offers breathtaking astronomy shows and programs. Explore the mysteries of the universe, gaze at the stars, and learn about the cosmos in an immersive and unique way.
Indulge in Local Cuisine
No trip is complete without savoring the local flavors, and Sunset Beach has some delightful eateries to satisfy your taste buds. From seafood shacks serving freshly caught delicacies to charming cafes with delectable treats, the culinary scene here is diverse and unique. Don't forget to try the famous Calabash-style seafood, a regional specialty that's lightly breaded and fried to perfection.
Beachcombing at Sunset Beach
Of course, one of the most unique and rewarding experiences in Sunset Beach is simply spending time on its pristine shores. The area is renowned for beachcombing, offering a chance to find seashells, sand dollars, and other treasures washed ashore. The serenity of walking along the shoreline, feeling the gentle breeze, and watching the vibrant sunset, creates lasting memories of tranquility and peace.
In Conclusion
Sunset Beach, North Carolina, maybe a small town, but it holds an abundance of unique experiences and hidden gems waiting to be explored. From the heartfelt messages in the Kindred Spirit Mailbox to the diverse wildlife of Bird Island, the town offers an array of activities that will captivate nature lovers, history enthusiasts, and adventurers alike. Whether you're visiting for a weekend getaway or an extended vacation, Sunset Beach promises an unforgettable journey filled with beauty, charm, and surprises around every corner.
Don't hesitate to reach out to us with any questions you may have about buying a home in Sunset Beach. Our team is well-versed in the local real estate market and can provide valuable insights and assistance. Feel free to contact us at your convenience, and we'll be more than happy to guide you with enthusiasm and expertise throughout your home-buying journey in Sunset Beach.