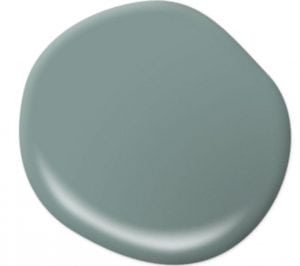 Can I tell you about my new favorite color? Is it a gray? Blue? Or green? This new color obsession is going to be everywhere and it's the perfect color for a beachfront or oceanfront home.
Behr's first ever color of the year is called "In the Moment". It's a great option for refreshing your entire interior and even exterior. It adds calm, brightness, freshness, and relaxation to a room whether you are using it as a paint color, accent color, or maybe painting one of your darker colored furniture pieces. This is a great option.
Behr wanted people to be in the moment and this color does just that. Wherever you are, maybe it's the kitchen, living room, bathroom, spa, or bedroom, in that moment and be peaceful and relaxed. This color is sure to get you there.
You can see in the picture above that we've chosen to showcase the walls in this color but really anything can be in this fabulous color. Consider painting a dresser or desk, your front door, matching this shade in textiles and fabrics for accent pieces and pillows, or even painting lamp shades and vases in this color. You don't want to go overboard on this color but you do want it in just about every different room of the house in some form or fashion. This color will pop, it will make buyers want to linger and stay in the room, and if you're planning on selling your beachfront home, this is a great accent color to spread throughout the room and tie the entire house together.
Again, one of the best things about this is that it will pull in different colors based on what you put around it. If you put more greens in the room it will bring out the green tone in the paint; if you put more blues in the room it will pull the blue out of the paint and likewise with gray. This is a unique color and I am so excited to get it into my house in some form or fashion.
If you're looking to boost the show-ability of your house for an upcoming sale feel free to give us a call. We love sellers and buyers and this is sure to be a showstopper.