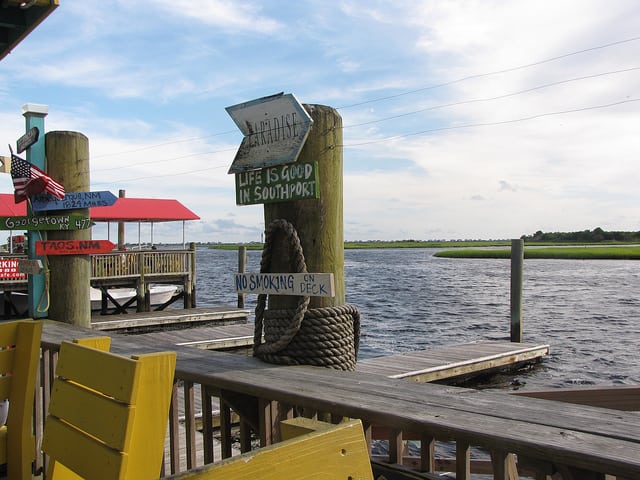 Southport North Carolina is located along the intracoastal waterway between Smith Island and Oak Island just south of the Sunny Point Military Ocean terminal.   There are approximately 3000 residents year-round even though during peak tourist seasons the population rises to nearly 20,000 residents, tourists and guests.
Currently at the publishing of this post There is 165 properties for sale in Southport. All of these properties along a type of Peninsula the jets out into the Elizabeth River and Cape Fear. Properties for sale including all lots and land start at $120-$1,500,000, also for a plot of land along the waterfront covering 2.25 acres. The highest priced house for sale is currently at $900,000 located on River Drive featuring three bedrooms and two bathrooms.
 There are currently 47 single-family homes for sale. These are priced from $69,700-$900,000. The median house price is currently $290,000. The majority of homes are priced between $220,000 and $325,000.
 There are 13 condominiums and townhouses for sale price from $149,900 for a one bedroom and one bath 700 ft.² condominium on Brown Street to a two bedroom and three bath 1600 ft.² condo on Marina view Drive price to $254,900. The median condominium prices currently at $200,000.
 There are more vacant land parcels in Southport then single-family homes for sale. These lots are priced from $1600 to about $1.5 million. There are currently 105 properties for sale on vacant lots in parcels of land. These are all within the city limits of Southport. The median vacant land price is currently about $52,000. There are larger lots, over 1 acre, and smaller lots of about one quarter of an acre. These would be ideal for building a small dream home and many sit along the waterfront with beautiful views of the waterway. Every vacant home is different but some have been surveyed and subdivided and are ready to be built upon.
For more information on properties, current values or a list of homes and real estate that match your search criteria and price for Southport North Carolina please contact us at any time. You can browse the website for free and when you're ready to Beulah home please let us know and will schedule a showing right away.