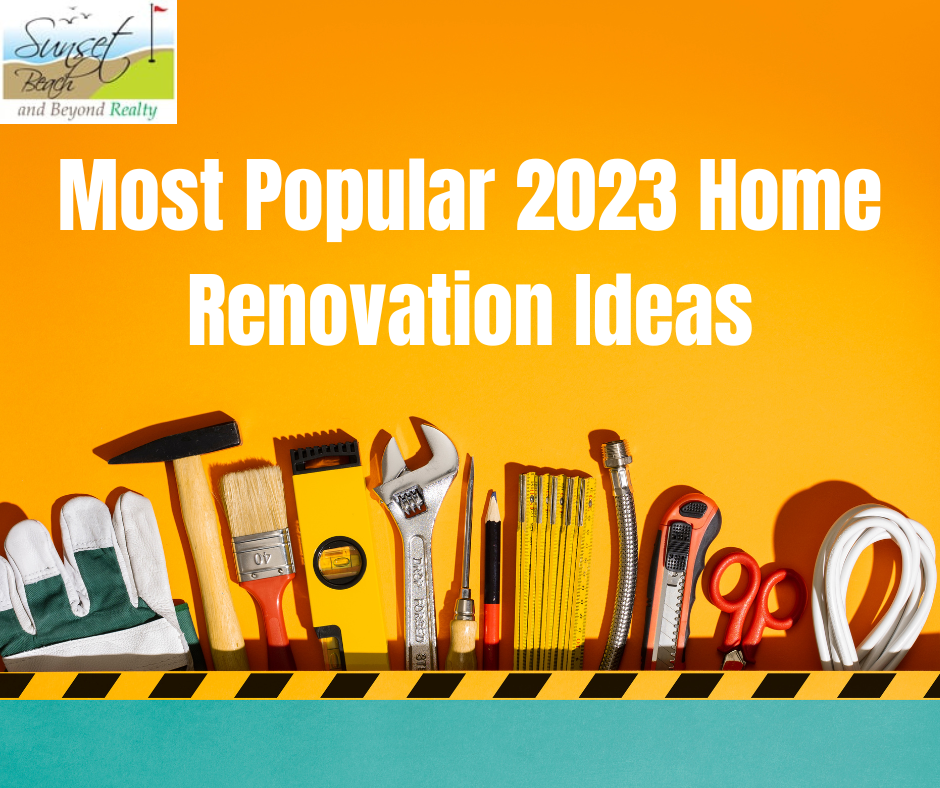 Home renovation and remodeling present excellent opportunities to enhance your home's value and achieve your desired aesthetics. To assist you in staying informed about the latest trends for 2023, we have conducted extensive research. This knowledge will prove valuable when considering important renovation and remodeling decisions.
Most Popular 2023 Home Renovation Ideas
Renovation vs. Remodeling
While the terms "renovation" and "remodeling" are frequently used interchangeably, they carry distinct meanings. It is crucial to accurately communicate your intentions to contractors and mortgage lenders to obtain accurate estimates and secure favorable rates and terms for your loan.
The disparity between a home renovation and remodeling lies in the creation of something new. Renovation involves updating or restoring a room or home while maintaining its original functions. The result is a different appearance. On the other hand, remodeling entails altering both the design and functionality of a room or home.
Both options significantly transform the look and ambiance of your home and can potentially increase its value. Various methods exist to cover the costs of renovations and remodeling, but it is essential to understand their respective expenses. Every year, trends in home improvement, renovation, and remodeling evolve. While some trends endure, others fade away quickly. Therefore, we present the top eight renovation and home remodeling projects for 2023.
Spa Bathroom
Crafting a serene environment in your bathroom remodel provides a sanctuary for relaxation and unwinding after a long day. Whether you spend more time at home or simply desire a private space for contemplation, consider incorporating a bathroom design with a spacious bathtub, a stand-up shower, soft lighting, and calming colors.
To complete the tranquil atmosphere, introduce natural elements into the bathroom, and don't forget scented candles. If storage is limited, consider adding built-in shelves or cabinets to maintain a clean and serene atmosphere. These additions allow you to store necessities while keeping them out of sight, enabling you to achieve the desired serenity.
Enhanced Outdoor Areas
The current trend for outdoor spaces involves transforming them into comfortable extensions of your living room. Imagine bringing all the comforts of your indoor living space to the outdoors. Incorporate ample seating areas with tables and couches, beautiful rugs, pergolas to provide shade, and perhaps even a fireplace or TV for cozy evenings spent outside.
Many homeowners now feature large dining tables outdoors, providing opportunities for entertaining when the weather permits. A pergola can further extend the usability of your outdoor space, even during inclement weather.
Bold Wallpaper Wallpaper
Once associated with the '70s, has experienced a revival. After years of extensive painting, trendsetters have realized that bold wallpaper, at least on one wall, is a compelling choice. Not only does it captivate the eye, but it is also a more convenient and time-efficient alternative to painting.
Wallpaper suits any room and allows you to showcase your desired style or personality while adhering to your budget. While covering an entire room with wallpaper may not be ideal, opting for an accent wall adds a touch of fun and aligns with current trends.
Expansive Window Banks
Nothing compares to the beauty of natural light in a home, and large window banks are the best way to maximize it. Whether you install windows on multiple walls throughout your home or create a floor-to-ceiling window wall as a focal point in a room, abundant natural light will transform the space beautifully. In addition to enhancing aesthetics, natural light also helps reduce utility bills, contributing to a lower carbon footprint and increased energy efficiency.
Multifunctional Islands
Kitchen islands are making a comeback after a period of waning popularity. However, they now offer much more than additional counter space. Homeowners are saving space by incorporating dishwashers, sinks, and trash pullouts into the island, leaving ample room in the kitchen for other purposes.
In Conclusion
Home renovation and remodeling projects provide an excellent opportunity to increase the value of your home while achieving the desired aesthetics. Understanding the distinction between renovation and remodeling is crucial when communicating with contractors and lenders to obtain accurate estimates and secure favorable terms. As we delve into the top trends for 2023, we find that creating a spa-like bathroom, enhancing outdoor living areas, incorporating bold wallpaper, maximizing natural light with expansive window banks, and implementing multifunctional islands are all popular choices. Additionally, the trend towards multifunctional rooms, functional mudrooms, and built-in storage solutions reflects the need for adaptable spaces that cater to the changing demands of modern living. By keeping up with these trends, homeowners can transform their homes into personalized havens that not only enhance their daily lives but also increase the overall value of their properties. So whether you're seeking a tranquil retreat or a versatile space for work and relaxation, these trends offer valuable insights and inspiration for your home renovation and remodeling endeavors in 2023 and beyond.
Whether you're seeking relaxation or adventure, Sunset Beach has something for everyone. For more information on real estate in Sunset Beach, contact us!