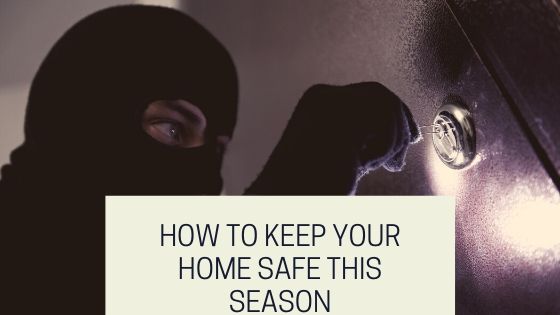 There's nothing worse than coming home from vacation only to find your home is been violated. There are ways to stay safe even if you're not to be home this season. You want to protect your home and with the holidays approaching, break-ins are more common than ever. We hear nearly every day of people getting packages stolen off of their porches or news stories about a burglary. There are ways to avoid vacation violators this season.
#1. Get to know your neighbors.
If you don't already know your neighbors, now would be a great time to build some trust, maybe meet a new friend and develop a bond that can protect both you and them. Now would be a great time to take them a plate of cookies and introduce yourself. While you're doing that, you might also suggest keeping an eye on each other's property and if enough trust develops, set up an arrangement to have them help you bring in the trash or collect packages if they see them on your front porch to save them for later. If you develop enough trust, you can let them know that you're going to be away for certain amount of time and to keep a special eye out for any suspicious activity.
#2. Have automatic lights.
Set up automatic motion sensor lights on the outside of your home. Burglars won't know that their automated and may be enough to scare them away should they come on in the middle of the night.
#3. Hold any mail or package delivery until your home.
You can simply notify the post office that you're going to be gone for a certain amount of time and to simply hold all the packages until you return.
#4. Leave the Car in the Garage
If you're planning on leaving a car at home, park it in the garage so that it is not a temptation for burglars to break into while you're away. Also, take any extra keys with you just in case there is a break-in.
#5. Be proactive and take pictures of valuable items
Take pictures of items in each room making note of it and its value. This is simply a way to protect yourself if something should happen.
Related: 10 Ways to Keep Your Home Safe From Burglars 
#6. Request a signature for all delivered packages.
The UPS has a program called UPS My Choice, and it allows customers to receive an email or text before a package arrives. Take advantage of tracking and delivery alerts to be notified when a package has been delivered.
#7. Invest in an alarm system.
It not only protects your home in case of a fire or a break-in but simply having the sign in the front yard is enough of a deterrent to any would-be burglars. Nest, Ring, and others offer great protection.
#8. Trim away any large trees or bushes
Trim bushes by interior or exterior windows and doors. Most of these should be below 3 feet to keep visual clearance.
#9. Conceal exterior wiring.
It's been known that burglars will look for ways to cut the electricity in order to remove lights and security systems.
#10. Get a four-legged security system.
Dogs are some of the best ways to deter burglars and sometimes simply leaving out a doormat that says "beware of dog" even if you don't have a dog can be enough of a deterrent.
We want you to stay safe this holiday season and by the simple tips and tricks, you can protect your home whether you're there or not. Have a great holiday!
Thanks for being such valuable customers and friends this year! From our house to yours, Merry Christmas and Happy Holidays!
Great Tips for Buyers and Sellers: