July Festivities In Sunset Beach NC 2023 – Welcome to Sunset Beach, where the vacationers have arrived, accompanied by the radiant sun! Picture yourself sinking your toes into the warm sand, taking a dip in the inviting waters, and feeling the gentle caress of warm breezes as they graciously embrace you. This idyllic setting extends a heartfelt welcome to all who venture here. July at Sunset Beach offers an abundance of exciting and enjoyable activities, and we are thrilled to share some of our favorite free options with you.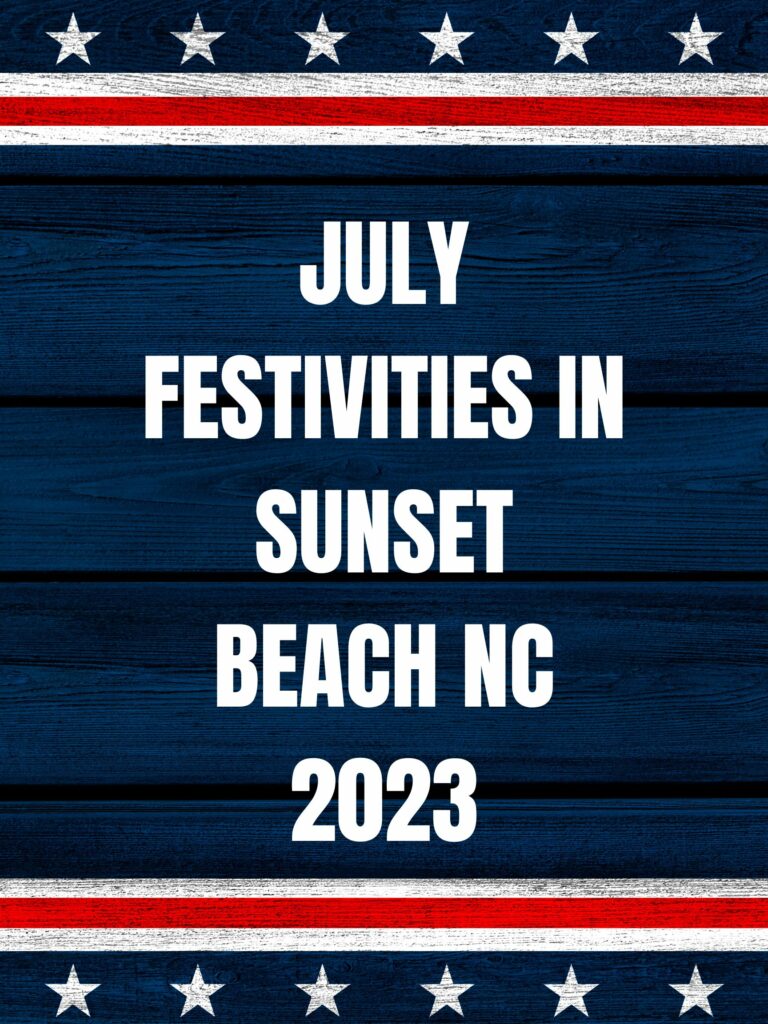 July Festivities In Sunset Beach NC 2023
Fourth of July
The Fourth of July is a truly festive time at Sunset Beach, with the reverberating echoes of fireworks filling the night sky. While some enthusiasts clandestinely ignite their own personal fireworks displays, the grand spectacles traditionally take place in downtown Wilmington, Southport (the official home of the NC 4th of July festivities), and Cherry Grove, SC.
Having experienced them all, we must confess that the traffic congestion we encounter on the journey back home has dampened our enthusiasm in recent years. Consequently, we have opted to remain on the island, comfortably perched on our rooftop deck, where we can delight in the displays unfolding all around us. This year, fortune smiles upon us as Calabash has planned a mesmerizing 4th of July Fireworks celebration on Friday, July 3rd at 7:00 pm. The advertisement suggests bringing a lawn chair and indulging in live entertainment and fireworks. It promises to be an evening filled with joy and merriment!
Party in the Yard
Are you a music aficionado? Sunset Beach now hosts the Party in the Yard at the Dock Street Properties every Wednesday night throughout the summer. Come along with your favorite chair and revel in the captivating live performances. As a bonus, the shops will remain open late, allowing you to peruse their offerings at your leisure. If you find yourself craving more melodious delights, Ocean Isle Beach serenades visitors with live music every Friday night from 6:30-8:00 pm near the museum. Remember to bring your lawn chair there as well, ensuring your utmost comfort as you immerse yourself in the harmonious ambiance.
Turtle Watch Program
For an informative and enjoyable experience, we highly recommend the Turtle Watch Program at Sunset Beach. Every Sunday at 7 pm, the dedicated volunteers of the Turtle Program educate visitors about the fascinating world of turtles, their eggs, and hatchlings. They even delight the young ones with an adorable dance that never fails to elicit laughter. Above, you will find a photo that captures one of these amusing moments. On July 8th, from 10 am to 2:30 pm, Ocean Isle Beach will host a special event called "Turtle Day." We eagerly anticipate witnessing the breathtaking sight of new turtles hatching at Sunset Beach—an awe-inspiring spectacle that truly resonates with the beauty of nature.
The Planetarium
If you seek affordable entertainment options, consider exploring Ingram Planetarium at Sunset Beach, the Ocean Isle Beach Museum, Coastal Cinemas Theater in Shallotte (which offers free movies on Tuesdays and Thursdays at 10 am), or indulging in a round of local miniature golf. These activities offer delightful experiences without straining your wallet.
At Sunset Beach, the possibilities for enjoyment are seemingly endless. All you need to do is make your way here and let the fun unfold.
As you enjoy the Fourth of July in Sunset Beach, it might be a great time to begin searching for your ideal permanent residence or vacation rental. If this applies to you, feel free to reach out to us. We would be delighted to help you with any real estate requirements you may have.