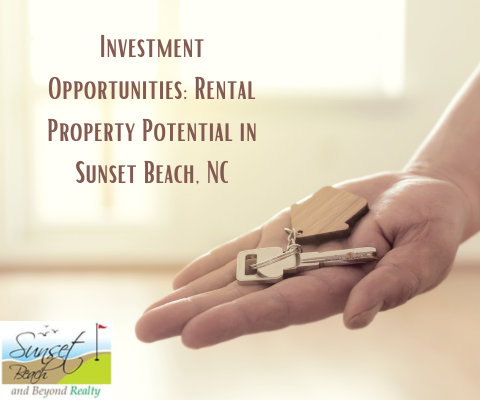 Investing in real estate and having rental property has long been a popular choice for individuals seeking to grow their wealth and secure a consistent income stream. Among the many options available, rental properties stand out as a lucrative opportunity, offering both short-term and long-term benefits. One location that has been gaining attention among savvy investors is Sunset Beach, North Carolina. With its stunning coastal beauty, welcoming community, and potential for rental income, Sunset Beach presents a compelling case for real estate investment.
Investment Opportunities: Rental Property Potential in Sunset Beach, NC
The Allure of Sunset Beach
Nestled along the southern coast of North Carolina, Sunset Beach is a hidden gem that boasts miles of pristine sandy shores and picturesque sunsets. Its small-town charm, tranquil atmosphere, and easy access to various amenities make it a desirable location for vacationers and retirees alike. The town's commitment to preserving its natural beauty and maintaining a family-friendly environment adds to its appeal. This combination of factors has led to a steady influx of tourists and seasonal visitors, creating a strong demand for rental properties.
Rental Property Demand
Sunset Beach's popularity as a vacation destination has translated into a consistent demand for rental properties. Visitors seeking a peaceful getaway are drawn to the area's serene beaches and relaxed ambiance. As a result, there is a year-round need for well-maintained vacation rentals. Additionally, the town's proximity to larger cities, such as Wilmington and Myrtle Beach, increases its accessibility and widens the pool of potential renters.
Tourism Season and Income Potential
One of the most attractive aspects of investing in rental properties in Sunset Beach is the potential for high rental income during peak tourism seasons. The warm months, typically from spring to early fall, see a surge in vacationers looking for beachfront accommodations. Rental property owners can take advantage of this surge in demand to generate substantial rental income. By strategically pricing and marketing their properties, investors can maximize their returns during these peak periods.
Long-Term Investment Benefits
While the summer tourism season provides a significant source of income, Sunset Beach's charm extends throughout the year. Retirees and individuals seeking a tranquil coastal lifestyle are drawn to the area's scenic beauty and sense of community. This translates to a consistent demand for long-term rentals. Investing in rental properties in Sunset Beach can offer a steady stream of income that extends beyond the peak tourism months, providing investors with long-term stability and financial security.
Factors to Consider
Before diving into the world of rental property investment in Sunset Beach, there are several important factors to consider:
1. Location:
The proximity to the beach and local attractions greatly influences the desirability and rental potential of a property. Beachfront or near-beach properties tend to command higher rental rates.
2. Property Management:
Investors who live far from the area may need to hire a property management company to handle tasks such as maintenance, bookings, and guest communication.
3. Regulations and Zoning:
Familiarize yourself with local regulations and zoning laws related to short-term rentals. Some areas may have restrictions or requirements that impact your investment strategy.
4. Market Trends:
Stay informed about the local real estate market trends, rental rates, and occupancy rates. Understanding the market dynamics will help you make informed decisions.
5. Maintenance and Upkeep:
Regular maintenance and property upkeep are crucial for attracting guests and maintaining positive reviews. Budget for these expenses when calculating potential returns.
6. Marketing and Advertising:
Effectively marketing your rental property is essential for attracting renters. Utilize online platforms, social media, and professional photography to showcase your property's features.
In Conclusion
Sunset Beach, NC, presents an enticing investment opportunity for those considering a rental property. With its natural beauty, strong demand from tourists and retirees, and potential for high rental income, the town offers a promising environment for real estate investors. However, like any investment, it requires careful research, planning, and management. By understanding the local market, adhering to regulations, and providing quality accommodations, investors can tap into the rental property potential of Sunset Beach and embark on a journey toward financial success. Whether it's the allure of the coastline or the charm of the community, Sunset Beach is undoubtedly a destination that holds both the promise of relaxation and the potential for profitable investment.
Feel free to reach out to us at any time if you have inquiries about purchasing a home in Sunset Beach. Our experienced team is well-equipped to offer valuable information and support concerning the regional real estate landscape. We're here to wholeheartedly steer you through your home-buying adventure in Sunset Beach, so feel free to get in touch – we're excited to assist you!