A well, we are well into summer so it's a good time to take a look at the snapshot for Ocean Isle Beach North Carolina. What's going on, home prices, it's a good time to buy or sell and how hot is the market?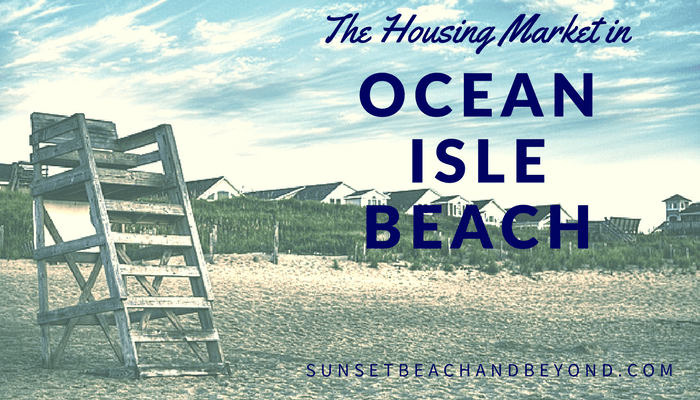 About 400 properties for sale, the median list price is between 270,000 and 320,000. The discrepancy in price is based on foreclosures, potential sales, changes from listing price to sales price, and whether or not homes come on or off the market or if they have reduced their price on one website versus another. There are very few distressed properties in the market right now, meaning foreclosures or short sales, but that doesn't mean that they're not out there. Good deals are still to be had. It's a somewhat balanced market. This means that we're not totally geared toward sellers or buyers. This means that it's a great time for both buyers and sellers to come together at the right price and the right property.
This small coastal town is home to less than 600 people year-round. So you wouldn't think that be that many properties for sale, but seasonal residents, vacationers, and full timers all make up the real estate market. Ocean Isle Beach stretches from Sunset Beach North and along the intercoastal waterway to the Ocean Highway.
What does this mean for sellers?
It's a great time to consider selling. The asking price and list price are very similar, which means that the gap between the asking price and selling price is very minimal. According to one website, the median list price is only $210,000 with a meeting closing price of $300,000. The price per square foot runs between $150 and $190. This may help when determining a good price range, but, looking at what has sold, the difference between asking price and selling price, and how long homes of sat on the market are all factors to getting the right market value for your home.
Home prices over the last six months have remained relatively balanced. Between January 2017 to June 2017, the number of houses that have sold has remained relatively the same. The average sold price and median sold price gone up slightly for both.
What does this mean for buyers?
Because this is not a seller's market it's also a great time for buyers.
Including a good deal without having competition. Understanding the sellers and their motivation may also be a good negotiating tactic when making an offer.
If you'd like more information about the current market trends your home might be worth in Ocean Isle Beach give me a call today.