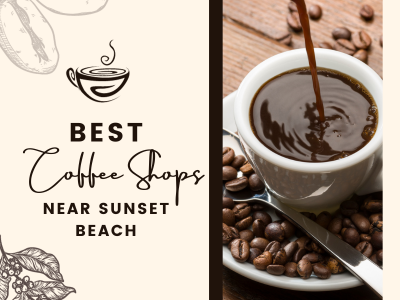 It's no secret that coffee shops are a hot commodity in today's society. While Sunset Beach is often known as a popular tourist destination in the summer months, locals relish in the cooler weather and less crowded beaches as Fall rolls in. It's the perfect time to venture out and enjoy a good ol' cup of Joe at one of the many nearby coffee shops. While there are dozens of places to choose from, these are a few of our favorite shops to satisfy your caffeine cravings.
Coastal Grounds offers a laid-back beach vibe that perfectly complements its seaside location. The inviting atmosphere and friendly staff make it a fantastic place to relax and enjoy a cup of coffee. In addition to handcrafted arabica coffee, Coastal Grounds serves fresh fruit smoothies, a delightful assortment of pastries, and even offers coffee beans for sale to take home and make your own steaming cup of coffee. As the first gourmet coffee bar in Sunset Beach, Coastal Grounds has earned a reputation for quality and is a must-visit spot for coffee lovers.
Just a short drive away in Ocean Isle Beach, Ben & Bean Bakery and Café is known for its delicious baked goods, locally roasted coffee, and welcoming atmosphere. Indulge in gourmet pastries, NY-style bagels, sandwiches, salads, and a variety of locally roasted coffee and espresso options. You can dine inside their cozy café, on their covered patio, or grab your order to-go. Ben & Bean offers the perfect combination of freshly baked treats and quality coffee, making it an ideal stop for breakfast or a mid-morning pick-me-up.
Drift Coffee Shop & Kitchen is all about enjoying good food and quality coffee in a friendly atmosphere. It's a place where you can take a moment to unwind and savor your coffee. Drift focuses on offering minimally processed, nutritious, and flavorful items, often inspired by diverse cultures. They serve specialty coffee from Ceremony Coffee Roasters, a small-batch roaster known for its high-quality beans.
Nestled in the charming coastal town of Calabash, North Carolina, Coffee Cottage is a beloved local coffee shop known for its welcoming atmosphere and friendly service. Coffee Cottage offers a delightful array of coffee options, baked goods, and more, ensuring there's something for everyone. It's the perfect place to chat with friends, catch up on work with your laptop, or simply unwind. Whether you're a local or a visitor, Coffee Cottage's warm ambiance and delectable coffee make it a go-to destination for those looking to enjoy a cup of joe in a cozy, coastal setting.
No matter which of these coffee shops you choose to visit near Sunset Beach, you're in for a treat. These establishments not only offer great coffee but also provide a unique experience that complements the beauty and relaxation of the coastal surroundings. When calling Sunset Beach home, there is a plethora of local businesses and charm to explore, let's chat today about making your dreams of living in Sunset Beach a reality!