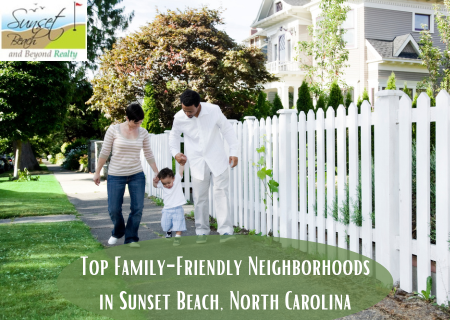 House hunting can be stressful, especially when you are searching for the perfect family-friendly neighborhood. Along the southeastern coastline of North Carolina lies the idyllic gem known as Sunset Beach. With its serene beaches, stunning sunsets, and welcoming community, Sunset Beach is a hidden paradise perfect for families seeking a peaceful and picturesque place to call home. In this blog, we'll explore the top family neighborhoods in Sunset Beach, where you can find a perfect blend of coastal living and family-friendly amenities.
Discovering the Charm of Sunset Beach, North Carolina
Sea Trail Plantation
Among the most sought-after communities in Sunset Beach, Sea Trail Plantation offers a range of amenities for families. This master-planned neighborhood boasts beautiful golf courses, swimming pools, tennis courts, and fitness facilities that cater to residents of all ages. The community is dotted with well-maintained walking trails and parks, providing ample opportunities for outdoor family activities. Moreover, the neighborhood's proximity to the beach allows families to indulge in beachcombing and various water sports, creating lasting memories for parents and children alike.
Ocean Isle Beach
Just minutes away from Sunset Beach, Ocean Isle Beach offers an array of charming family-friendly neighborhoods. Known for its tranquil atmosphere and family-oriented ambiance, this area is a popular choice for those seeking a laid-back coastal lifestyle. Children can enjoy building sandcastles on the pristine shores, exploring the local shops and eateries, or taking part in family-friendly events regularly organized by the community. The warm and welcoming vibe of Ocean Isle Beach is sure to make families feel right at home.
Sandpiper Bay
Sandpiper Bay is another fantastic family-friendly neighborhood in Sunset Beach, situated alongside the Calabash River. With a focus on outdoor recreation, this community features top-notch golf courses, swimming pools, and tennis courts, perfect for keeping the whole family active. The natural beauty surrounding Sandpiper Bay enhances the quality of life, providing ample opportunities for birdwatching, kayaking, and enjoying the region's unique flora and fauna.
The Landing at Sunset Beach
The Landing is a delightful residential community with a mix of single-family homes and townhouses, catering to families of all sizes. This neighborhood boasts a strong sense of community, with frequent events and gatherings that foster neighborly bonds. The Landing's central location provides easy access to Sunset Beach's scenic attractions, making family outings and beach days a breeze. The area's safe and friendly atmosphere ensures parents can feel at ease as their children explore the community.
Sunset Lakes
True to its name, Sunset Lakes is a picturesque neighborhood surrounded by beautiful lakes, offering serene views and a peaceful environment for families. The community's well-maintained playgrounds, picnic areas, and walking trails provide ample opportunities for outdoor family fun. Additionally, Sunset Lakes' proximity to local schools and shopping centers adds to its appeal, making it a convenient choice for families with school-aged children.
Seaside Station
Seaside Station is a charming family-friendly neighborhood located just a short distance from the beach. The community's well-designed homes and well-manicured landscapes contribute to the overall charm of the area. Seaside Station is known for its excellent schools and family-focused amenities, including parks, recreational areas, and community events that encourage interaction and a strong sense of belonging.
The Resort at OIB
While technically in nearby Ocean Isle Beach, The Resort at OIB is worth mentioning for families seeking a resort-style living experience. This gated community offers a range of amenities, such as swimming pools, fitness centers, and even a private beach club. Families can enjoy a year-round vacation-like lifestyle, creating unforgettable memories together.
In Conclusion
Sunset Beach, North Carolina, offers a variety of family-friendly neighborhoods that cater to the needs and preferences of diverse families. From coastal living to a strong sense of community, these neighborhoods provide the perfect setting for families to flourish and create lasting memories. Whether you're drawn to a golf course community, a waterfront residence, or a family-oriented neighborhood, Sunset Beach has a place for every family to call home. Embrace the laid-back coastal lifestyle and create cherished memories with your loved ones in this charming beach town.
Feel free to contact us anytime if you have any questions about purchasing a home in Sunset Beach. Our team is highly knowledgeable about the local real estate market and can offer valuable insights and assistance. We're here at your convenience, eager to guide you with enthusiasm and expertise throughout your entire home-buying journey in Sunset Beach. Don't hesitate to reach out – we're more than happy to help!