There can be something said about the charm of a fishing town. The picturesque landscape reminds one of the great novel Moby Dick by Herman Melville, trying to catch sight of a great white whale with the spray of sea salt coating your face. Imagine lumbering Trawlers, hauling in fresh fish in great large nets suspended on deck.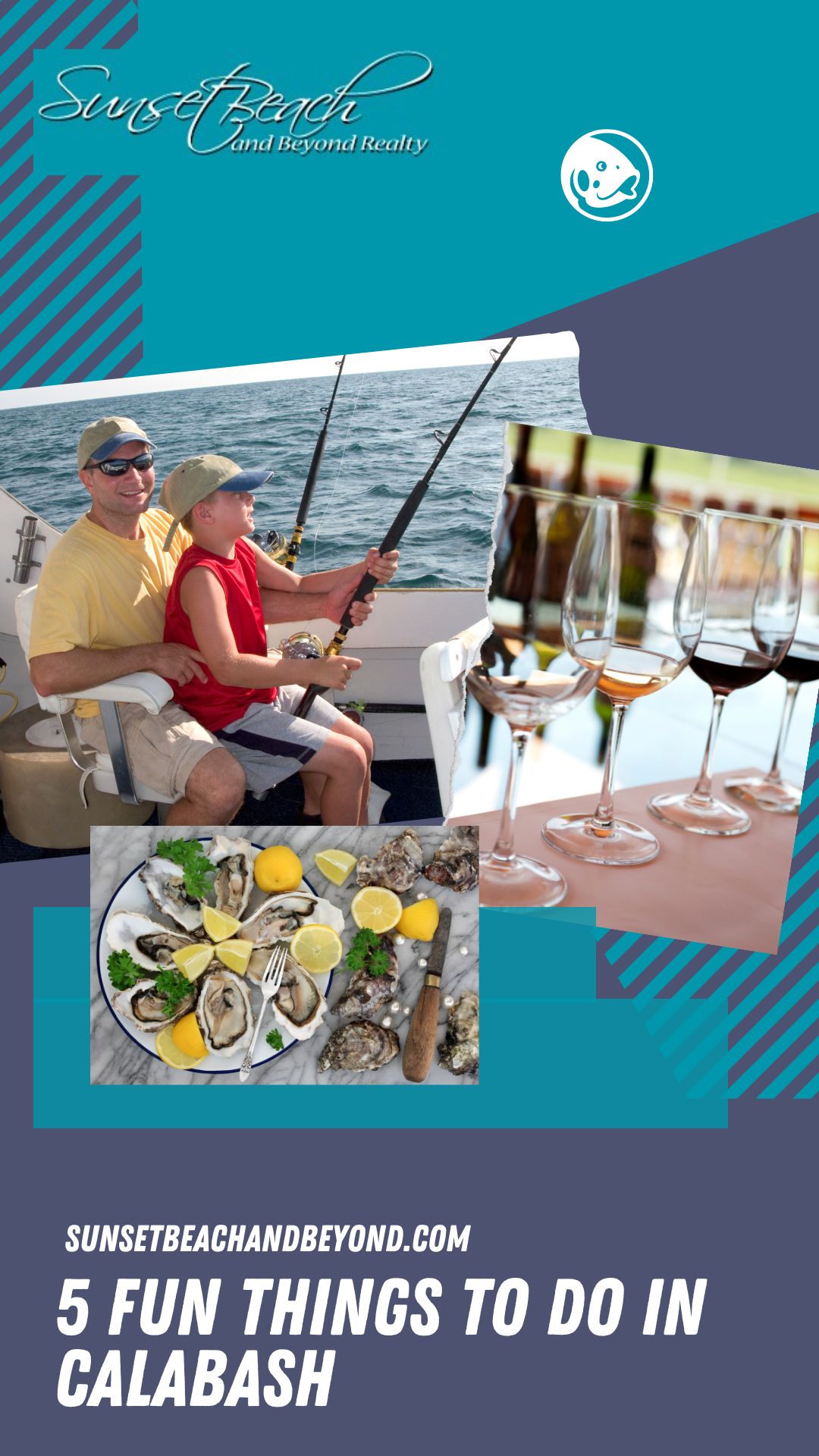 The nostalgia these images have painted for you are all wrapped in one town. Calabash, NC is a small fishing town known as the Seafood Capital of the World. Full of delightful Calabash-inspired seafood restaurants, world-class eco-tours, and marine life makes this destination is a vacation you won't want to miss. If you are keen on exploring this town, read on to find 5 fun things to do in this coastal town.
1. Fish with the Calabash Fishing Fleet & later Visit Ripley's Aquarium of Myrtle Beach
For some fun on the water, check out the Calabash Fishing Fleet, a family-owned business with a charter fleet available for fishing. The option to book the boat is available, or you can share the ride. The boat offers a thrilling fishing experience in comfort offshore (deep sea) and nearshore. There are also river cruises that offer scenic tours looking for dolphins if you aren't quite up for fishing. Want to explore beneath the surface of the ocean without diving into the dark deep? Check out Ripley's Aquarium of Myrtle Beach, bringing marine life to you in 6 wondrous adventures:
-Dive with the Sharks
-Stingray Experience
-Glass Bottom Boat Adventure
-Sleep with the Sharks
-Behind the Scenes Tour
-Morning Yoga
There are live shows at the Ripley's Aquarium of Myrtle Beach throughout the year, with a summer camp being held annually. Explore the aquatic world of eels, fish, sharks, crabs, jellyfish, and even mermaids. Yes, that is right, mermaids.
2. Tropical Mini Golf & Visit the Silver Coast Winery
For a thrilling outing in Calabash, head on over to the Tropical Adventure Mini Golf with friends and family. This mini golf course is designed with precision and a well-maintained landscape in mind. There is plenty of shade from the sun's bright rays, and it is a family-friendly space for children learning how to putt. In May of 2002, the Silver Coast Winery opened its doors to the public as the first winery in Brunswick County, and the 22nd in North Carolina. The winery is owned and operated by the Azzato family, and is best known for housing award-winning wines from American Oak Chardonnay, to White Merlot, to Cabernet. For a wine connoisseur, this winery is a slice of heaven.
3. Explore the North Carolina Oyster Festival
This annual event has successfully surpassed 37 editions. The North Carolina Oyster Festival is a long-standing tradition of two full days of entertainment, food, and shopping. This event hosts a variety of attractions, such as culinary delights, live entertainers, daily contests, and local art & crafts shopping.
4. A Taste of Calabash
Calabash stays true to its roots of being a coastal town, paying homage to the sea with an array of mouth-watering restaurants inspired by the coast. Calabash-styled seafood is served supremely fresh, with each catch pulled right from the water, lightly breaded, deep fried, and served.
The Oyster Rack
The Oyster Rock is a family-owned and operated waterfront seafood restaurant located in Calabash, NC. They specialize in excellent seafood, ranging from raw bar items to a flavorful mix of beef, chicken, and pork dishes prepared in-house every day. Only the freshest, and finest ingredients from local suppliers and the stunning Atlantic Ocean outside the door. The Oyster Rock provides the most stunning views, overlooking the Calabash River. There are over 24 domestic and imported beers on tap, and 30 wines, and a delicious mix of specialty cocktails.
 The Waterfront Seafood Shack
Waterfront Seafood ShackThe proudly owns the boats that bring in fresh fish catches daily, with the local catcher Joe Schmidt walking his flounder to the Waterfront Seafood Shack, giving both his flounder and instructions to the restaurant manager when his boat returns to shore. Flounders and fillets alike are prepared to perfection, with some Calabash-style, and others southern deep fried. To expand its menu, the Waterfront Seafood Shack also owns the shrimping boat, Miss Serina, adding fresh shrimp and fries to their services.
Captain Nance's Seafood
Captain Nance's Seafood is a seafood restaurant located on the Calabash River, featuring a wide variety of both seafood and land lover meals. There is a wonderful outside seating area that provides a scene of shrimping boats, bringing in their fresh catch of the day. Some featured menu items include shrimp cocktail, oyster cocktail, oyster stew, Mema's fried okra basket, hot wings, fried pickles, and onion rings. You sure won't want to miss this mouth-watering experience!
Crab Catchers On The Waterfront 
Founded in 1996 by Tim Kettner, purchased what originally used to be a fish house, and turned the Crab Catchers On The Waterfront into what it is today! Located on Little River, a historic port best known for its pirates and blockade runners gives the perfect atmosphere for the selling and eating of local seafood, right next to the boats bringing in the fresh catch.
Capt. Juel's Hurricane 
Located on the waterway, Capt. Juel's Hurricane has a new additional floating deck with a downstairs deck! There is a cold bar with the coldest taps. Only the freshest fish is served by courteous staff. This family-friendly place is one for both seafood and land lovers to enjoy a freshly prepared meal. Check out a few menu items including the Marker 43 Stuffed Shrimp, or for something less fishy, check out Juel's Chicken Wings, or Artisan Flatbreads.
5. Calabash Shopping
If you are looking for something to bring back with you from Calabash, there are tons of shopping opportunities. Both Calabash and nearby Ocean Isle Beach offer tons of local gift shops, everything from wonderful clothing boutiques, beach items, and bookstores. Continue to read to check out some stores to visit while enjoying the town of Calabash:
OIB Surf & Java 
This boutique-styled surf and coffee shop is located in Ocean Isle, NC. OIB Surf & Java is not only a complete coffee shop but also a decked-out surf shop, featuring beach fashion for both men and women. This shop carries surf accessories, ladies' jewelry, sandals, sunglasses, watches, and the latest surf brands. For water fun, OIB Surf & Java also sells surfboards and paddle boards.
The Tulip Tree Boutique 
Offering unique clothing and accessories that won't be found in other shopping areas. Service at The Tulip Tree Boutique is helpful and very friendly, and they carry both women's and children's fashion perfect for the beach.
Books and Moore 
Books and Moore is a local Calabash bookstore owned by two brothers. The bookstore itself is a cottage, giving a magical storybook feel to the atmosphere as you browse shelves of books related to Fiction, Nonfiction, YA, and Kids. The small bookstore is inspired by others like it to keep smaller bookstores from going extinct. Sponsored by BookShop.Org, the overall mission is to help local, independent bookstores thrive.
Interested in moving to Calabash, NC, or for more local information, check out our website.