Buying a beach house can be an adventure but it can also be a caveat for creating a lifetime of memories. The North Carolina shore stretches from the Outer Banks to the Brunswick Islands and each area offers a different shore front terrain. Finding where you want to buy is really the first step.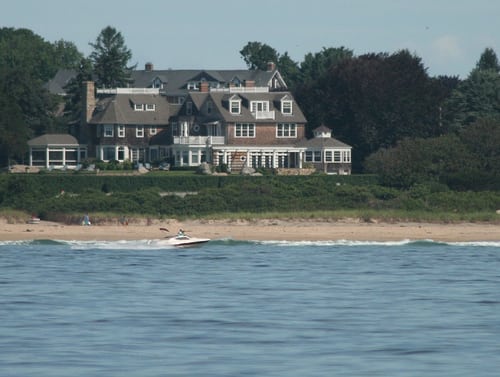 Location
Find out where you want to be, the amenities around the area and commute, if this plays a role. The Outer Banks are probably the most windy and treacherous but a little farther south in Sunset Beach and Ocean Isle, the shoreline is a bit more protected. Farther south is also more family friendly with calmer beaches, fishing and some swimmable waters. However, if you prefer the rough and tumble and stormy seas, the north end is your better bet but you may have more issues with home repairs and wind damage.
Check out prices on Ocean Isle Beach oceanfront homes
2. Style
The style of the home is your second step. Most oceanfront homes are built on stilts to withstand storms and flooding. This allows the water to swirl underneath while leaving the home dry on top. However this also means stairs. If you don't want the struggle of stairs up to your home, you might consider buying a little farther from the shore. 
3. Depth
This follows into the next tip; how close do you want to be to the shore? Some shoreline homes have sensational views but also come with the drawback of higher prices and more structural risk. Homes closer to the ocean require more maintenance and upkeep due to the salt air and wind.  Prices and maintenance go down tremendously each block away from the ocean you go.
4. Negotiating
Depending on the time of year, vacation homes and ocean front properties can cause quite a bidding war. You can negotiate a great deal with a short sale home or foreclosure but this does tend to take much more time than a traditional sale. If you're looking to move in quickly, you'll want the expertise and skill of a professional real estate agent that knows the coastline homes and how to negotiate with homeowners. Getting what you want for the price you want, all the while understanding the risks and nuances of a coastal home is what we do best. With years and years under our belt, when it comes to helping folks buy the right coastal home, trust the experts with Frank and Karen Baker.
Ready to browse? Take a look at our website for all homes for sale along the North Carolina coastline. Ready to see one closer? Give us a call to schedule a showing. 
"Image" by Dgreco  – I created this work entirely by myself.. Licensed under CC BY-SA 3.0 via Wikipedia –