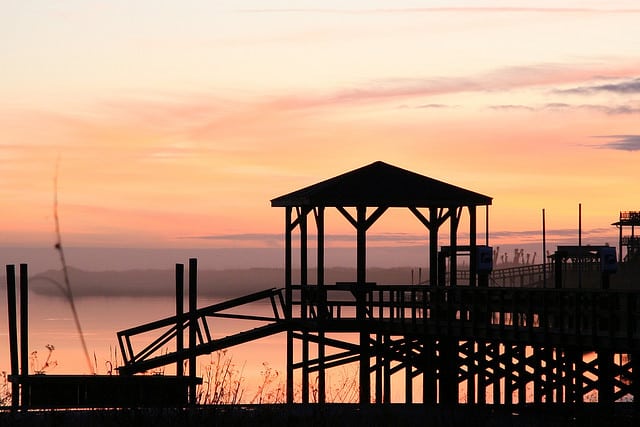 Sunset Beach is a small community on the southern tip of North Carolina. It's between Bird Island and Ocean Isle Beach. This location is home to the southernmost island in North Carolina. It was originally named Bald Beach but was purchased in 1955 for $60,000 from the Brooks family and in 1958, the current owner designed a pontoon swing bridge giving vehicles access to the Sunset Beach island.
Sunset Beach has been a favorite coastal destination for families for generations and not only is it a beautiful vacation spot its home to about 3500 residents.  Sunset Beach was incorporated as its own town in 1963.
The small town consists of mainland neighborhoods and a barrier island with about 1200 homes. Three of the larger mainland neighborhoods in Sunset Beach are Golf Course Communities including Oyster Bay, Sea Trail Resort and Sandpiper Bay.
Sunset Beach has a variety of events and activities as well as numerous things to do all year long. Bird Island is a 1300 acre state preserve barrier island connected to Sunset Beach accessible only by boat, walking or biking along the beach. It's home to Loggerhead turtles, and the elusive purple sandpiper. This location features dunes, maritime forests and marshlands with a variety of habitats for various seabirds and coastal marine life.
The turtle sanctuary is a popular vacation destination and many residents are part of the Sunset Beach Turtle Watch Program, which is a private, nonprofit program with volunteers monitoring turtle nesting around the Sunset Beach area.
 Ingram Planetarium is a popular spot when the weather turns as people of all ages can enjoy this state-of-the-art facility with a 40 foot dome and sky theater, laser music shows, galaxy gift shop and exhibits. It's located at 7625 High Market St.
Of course a visit to Sunset Beach would not be complete without a visit to the Pontoon Bridge. This iconic bridge link to the mainland to the island and it opens hourly and on-demand serving residents and visitors for more than 50 years.
SCHOOLS
 Residents of Sunset Beach utilize the Brunswick County public school district. It's also part of the Ocean Isle Beach area as well.  Brunswick County offers nine elementary schools throughout the different towns, five middle schools and five high schools all schools use similar curriculum. Two of the five high schools are specifically designed for college preparatory students.
REAL ESTATE
 Home prices throughout the Sunset Beach range anywhere from $55,000 to over $800,000 for luxury oceanfront estates and large properties. The average home price is between $150,000 and $320,000. At any given time there are about 300 to 350 properties, land, townhomes and estates for sale within the town of Sunset Beach.
For more information on the homes and real estate in Sunset Beach please contact us at any time. Because we live in this coastal town, we can help you find the right home at the right price.
Image by Tonya Lane Rucker Flickr
Sunset Beach Homes for Sale: